NMat by GMAC™ Information Event
Nairobi, Kenya
Thursday 16th November 2017
Strathmore University, Nairobi, Kenya.
We are pleased to invite university graduate management program leaders and administrators for a two hour, NMAT by GMAC™ information session at Strathmore Business School on Thursday 16th November 2017. This is an invitation only event.
The NMAT by GMAC™ exam has been established in Africa in partnership with 27 African Business Schools in 10 countries. This is an admissions exam for entry into leading graduate business programmes in Africa, brought to you by GMAC, who own the GMAT® exam.
The NMAT by GMAC™ exam measures skills required for academic success in management programmes and is accepted by the following leading African institutions among others:
Gordon Institute of Business Science (GIBS), South Africa
Wits Business School, South Africa
Rhodes Business School, South Africa

North West University, South Africa

Milpark Business School, South Africa

University of South Africa, Graduate School of Business Leadership, South Africa

If you are a leader or administrator in a university graduate program and interested in attending this two hour event, kindly contact us for your direct invitation and registration (invitation only event).
For invitation and registration details, CONTACT US directly by email to info@akadeducationafrica.com or call, SMS or What'sApp to +254 720 743 674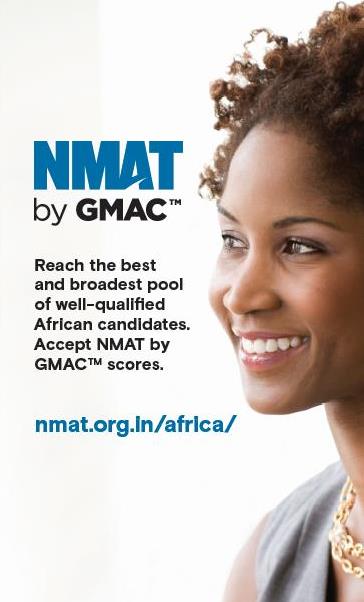 GMAC is introducing the NMAT test by GMAC™ into Africa.
This in response to problems universities face of admitting high caliber students into management and other professional courses. Candidates are not always at the required standards, and as a result, programs experience drop-out rates as high as 70%; a loss to all stakeholders - universities, students, parents and society lacking the required human resources.
The NMAT by GMAC solution is introducing testing systems that identify right candidates best suited for select programs. The NMAT test by GMAC™ (who own the GMAT® exam) is an admission solution for leading graduate business programmes in India and has been successfully pilot tested in South Africa. The test gives candidates the confidence to perform their best in graduate programs. Kenya and Nigeria are the next African countries set to benefit – with extra benefits that include cost and structure.

The purpose of the introductory meeting is to;

Demonstrate the benefits of NMAT, showcasing how it enables leading graduate schools recruit top talent with the comfort that the test measures the skills needed to succeed in professional programmes.

Explain the Structure & Features of this exam, testing Language Skills, Quantitative Skills and Logical Reasoning.


Share research findings that link test results with successful completion of programs and workplace performance thereafter.


De-mystify

the computer-delivered test based on difficulty levels.




Obtain feedback from the leaders and decision makers

Invite university business schools to sign up for this in the next admissions cycle, year 2018/19 academic year.

The above will be led by Dr. Ron Sibert, Market Development Director, Africa, Graduate Management Admission Council® (GMAC®).