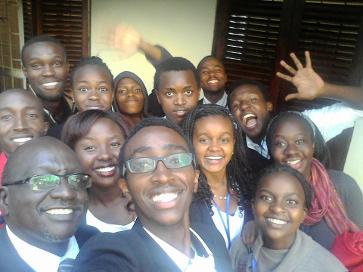 Theme:
Academic success for Top University Placement: Mentorship Conversations:



This seminar was held on Tue 28th - Thur 30th April, 2015. Following which we are available to offer training at Schools or at the KBN premises, Kabarnet Road, Off Ngong Road, Nairobi on request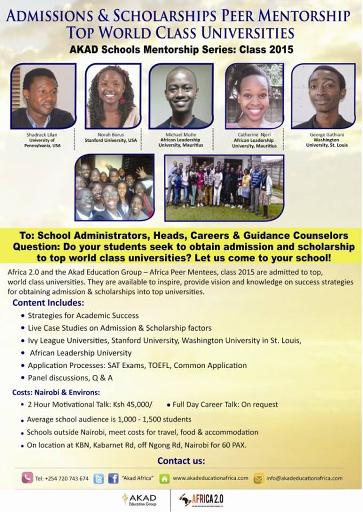 Peer Training Mentors
| | | | |
| --- | --- | --- | --- |
| No | Youth Mentor | Country | University of Study |
| 1 | Shadrack Lilan | USA | University of Pennsylvania |
| 2 | Norah Borus | USA | Stanford University |
| 3 | George Gathiani | USA | Washington University in St. Louis |
| 4 | Eric H. Ochieng | UK | University College London |
| 5 | Michael Mutie | Mauritius | African Leadership University |
| 6 | Catherine Ngugi | Mauritius | African Leadership University |
| 7 | Josephat Lowoi | South Africa | African Leadership Academy |
| 8 | Ernest Ochieng | TBA | Top 2014 KCSE student |
| 9 | Bertha Onduso | TBA | Top 2014 KCSE student |
Content
Strategies for Academic Success
10 Live Case Studies on Admission & Scholarship factors to Ivy League Universities; UPenn, Harvard and other Top Tier Universities; Stanford University, Washington University in St. Louis, African Leadership Academy, African Leadership University, etc.

5 Sessions that include;Examination requirements; SAT, TOEFL, Application Processes: Common Application
3 Panel discussions with top students
3 Experiential Training Sessions

Negotiation Tactics

Personal Branding & Confidence Building
Security mindset: Surviving terrorist attacks
We appreciate the success of AKAD Mentees as top students in national examinations (KCPE & KCSE), as well as their obtaining admission and scholarships to world class universities.

Even as we prepared for this seminar, our two mentees, Josephat Lowoi (Lenana School) and Shawn Karanja (Aga Khan High School, Nairobi) were admitted to the African Leadership Academy (ALA), Johannesburg South Africa! We look forward to their sharing their success story and tactics!

This seminar creates a unique opportunity for attendants to learn from our special group of Peer Mentors, who first met at the 2012 AKAD Seminar at Braeside High School. This is a unique opportunity for them to do so, prior to leaving Kenya for studies abroad in August 2015.

Attendants will learn first-hand success principles; who, what, where, when, why and how they did it!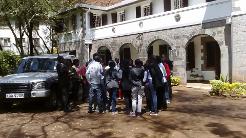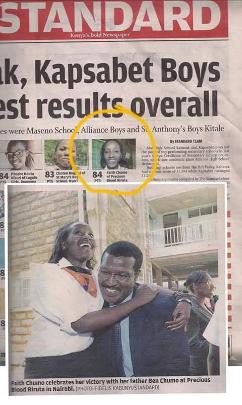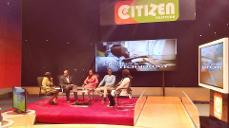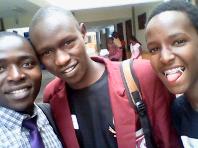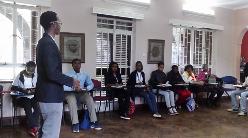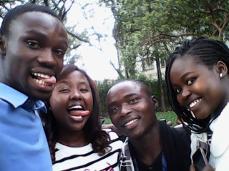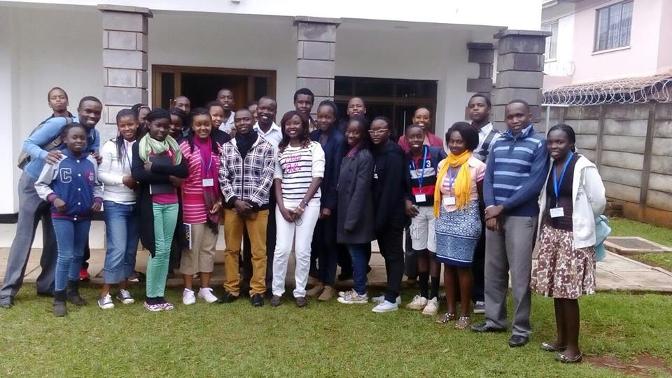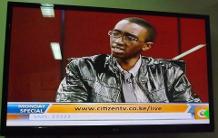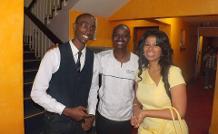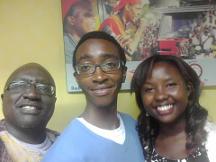 George Gathiani
George Gathiani is admitted to the
Washington University in St. Louis, USA
on full scholarship for a Dual Degree in Architecture and Film and Media Studies from August 2015.
In his Gap Year, he has served as Kenya's Youth Admissions Representative (YAR) with the prestigious African Leadership University (ALU) Mauritius – with its roots in the African Leadership Academy (South Africa). He is a mentee and Peer Trainer with the AKAD Education Group- African, providing Leadership training at numerous AKAD events
He first participated in the 2012 AKAD Seminar at Braeside High School and has since pursued his Careers interest through AKAD with activities based on a career in Architecture and Broadcast Journalism. These have included Job shadows at FHG Architects Limited, mentored by Architect, Mr. Andrew Kimani, journalism Job shadowed at KBC radio, English service, Citizen TV as a Youth Representative and understudying at the Kenya Institute of Management (KIM) MANAGEMENT magazine, with former Editor Carole Kimutai. He is the Founder of "Simply Do" initiative.

George attended the Alliance High School, and was a 2013 KCSE top student with an "A" of 83 points. At Alliance High School, he was passionate about writing and was Chairman of the Alliance High School Writers 'and Media club, leading his club to work with national media publications such as "The Daily Nation" Newspaper and teenage entertainment magazine, "The Insyder". He joined the President's Award program and completed the Bronze and Silver levels with outdoor camping excursions around Kenya, with weekly service as a Sunday school teacher.

George served in the school choir as Secretary and leading the society to two consecutive Kenyan National Galas. He was Vice Chairman in his house's committee in charge of house discipline, becoming a member of the school's prefect's body as a Captain in charge of the Dining Hall. George participated in the Global World Scholars Cup and was ranked fourth nationally in Kenya; the competition aimed at testing participant's aptitude in the fields of writing, debate and trivia in relation to both local and world issues. His performance qualified him for the global round in Dubai.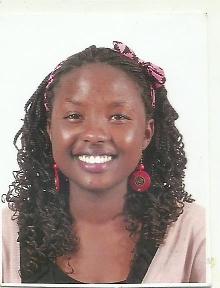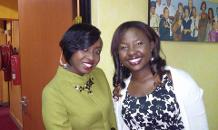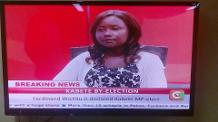 Norah Chelangat Borus
Norah has been admitted to study at
Stanford University in California, USA
in the School of Engineering. She is considering a double major in Computer Science, Music Science and Technology.
She was the top No. 1 girl in the 2013 KCSE examinations, and 4th nationally in Kenya. She then joined the Equity African Leadership Program (EALP) in March, 2014.

As an EALP scholar, she worked for seven months in the Operations Department of Fourways Branch, and mentors 4 students from Loreto High School, Kiambu, who are being sponsored by The Wings to Fly scholarship program. She has also attended various congresses and meetings of these scholars as a chaperone and mentor, including the Commissioning of the 2015 Wings to a Fly Scholars in mid January and when US President Bill Clinton visited Kenya in year 2015.

Norah volunteered as a teaching assistant in PACE, an NGO that provides volunteer teachers to financially disadvantaged schools mostly found in slum areas, from January to March of 2014, and after that helped to train incoming volunteers and write articles for the website. Currently, she is a Website Administrator of PACE.

An avid musician, she enjoys playing piano and guitar, and teaching choral music, and is the assistant music director of her Church, AIC Langata.

Norah studied at Precious Blood Secondary School in Riruta. She obtained a score of 2200 in her SAT. She recently represented AKAD on national TV, Citizen TV's "Monday Special" program, 4th May 2015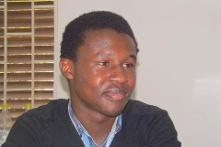 Shadrack Lilan, admitted to the University of Pennsylvania as a Penn Scholar, 2015

Testimonial: From Shadrack Mon 16th March 2015.

Hi Dr. Weche

I want to say thank you so much for the help you offered me during the seminar at Braeside in 2012.

As we speak, I was admitted into the university of Pennsylvania in the Early decision round.

You are one of the forces that made this possible! thanks alot Daktari!



Shadrack Lilan

Shadrack Lilan is admitted to the Ivy League University, University of Pennsylvania, USA as a Penn World Scholar.

The program attracts outstanding students from around the globe, selected based on exceptional leadership potential, academic achievement, financial need, and career plans. It creates a global leadership network of alumni and students, with practical global leadership experience by participating in international internships.

Shadrack was a top 2013 KCSE student and is a former student of Alliance High School, Bellevue School and Doonholm catholic school.

He is a very active sports man in athletics and more notably, hockey. He obtained several certificates and represented the province in the national championship. He was an active member of the school exchange club, and an avid sports columnist in the student-produced newspaper, The Busherian.

Shadrack participated in community service in his local area of Tinderet under a missionary organisation known as Diguna, and at the Nyumbani children's home in the Karen suburb of Nairobi.

In 2012 he was nominated by the school's principal to represent the school in a seminar hosted by AKAD Africa. At the seminar, he changed his outlook on life, and was exposed to different ideas, from fashion to law to even what it takes to being a DJ.

In his gap year, he volunteered to work for World Vision as the understudy of the head of the health, hygiene and nutrition department. He was in charge of rolling out the PD Hearth project for improving diets and nutrition of underweight and malnourished children under five years old, with 96% of the children able to gain weight. For his efforts, the women of the community awarded him with a kikoi.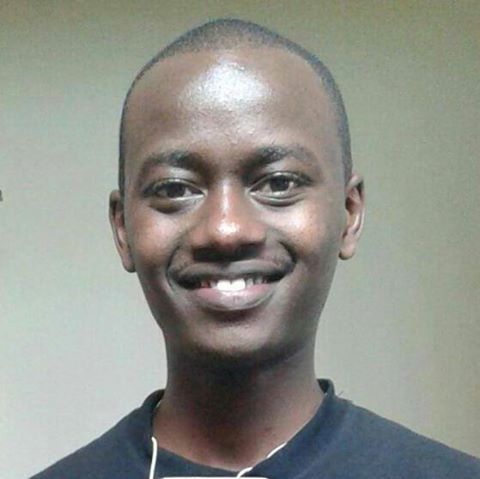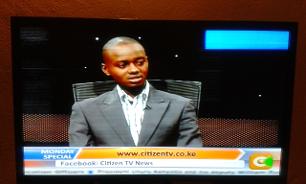 Michael Mutuku Mutie

Michael is admitted to the African Leadership University, Mauritius He is a Peer mentor, Coach, Mentee and Associate of AKAD Education Group - Africa.

Michael has innovated three ideas; developing authentic energy saving schemes in aid of advancing and adding value to his community's existence for which he was selected as an outstanding candidate to represent Kenya at the recent One Young World Summit in Dublin, Ireland, in 2014. In July 2012, a Kenya's TV station, GBS TV, recognized Michael as the "second best young innovator in Africa" from Kenya in the Panorama smart entrepreneur segment.

Michael attended school at the Dagoretti High School, where the student "D-Smart Company" created the hot water iron box. In 2011 at the Junior Achievers National competition, they took three out of a possible five honors and went on to represent Kenya at the Africa Regional contest held in Ghana, where they were third and won the Barclays Innovation Award for having best illustrated and introduced new, original and ground-breaking business ideas.

Michael first participated with AKAD at the 2012 seminar at Braeside High School. Since then, he has tirelessly mentored youth, speaking in several schools and championing good morals with educational and career success skills. He is the founder of the #Leadthechange, with compassionate initiatives that include offering foodstuff to the poor and homeless on Nairobi's streets.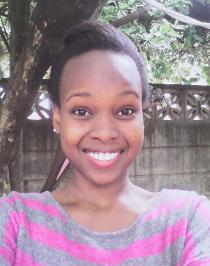 Catherine Njeri
Catherine Njeri is admitted to the African Leadership University where she hopes to major in Electrical Engineering or Business
She is a proactive young lady with a passion for the environment. She is the founder of the Safisha South B campaign a programme that saw her mobilize the young people in her estate to clean the South B neighbourhood and earned her a voice in the Nairobi City Council's Environmental Department campaigning for a cleaner city.

She graduated from the Aga Khan High School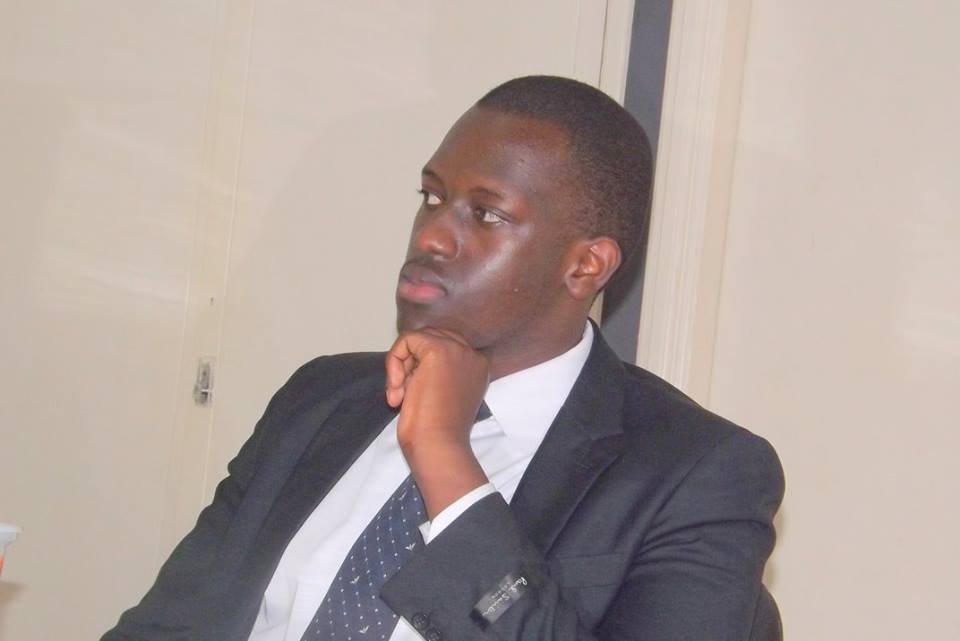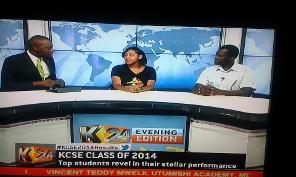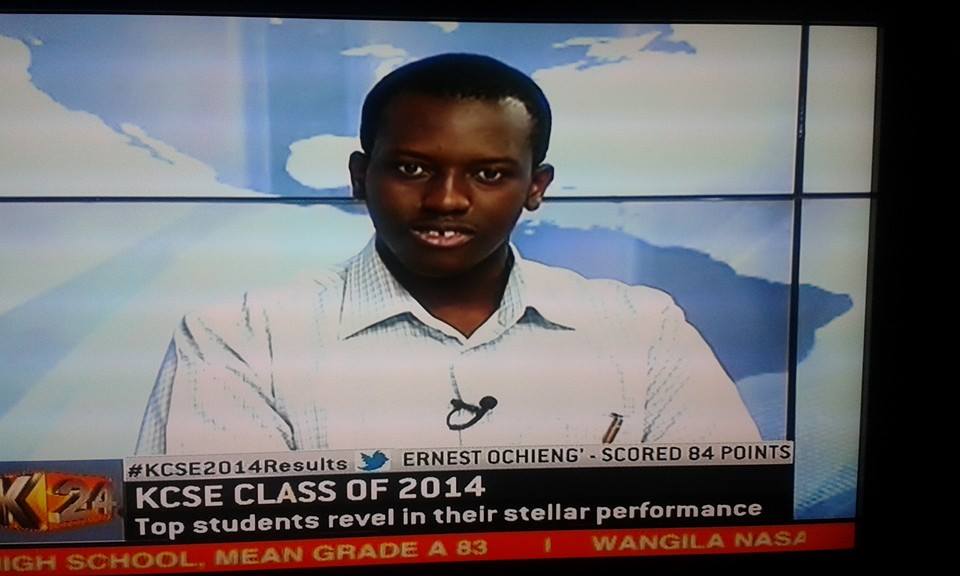 Ernest Ochieng on K24 TV interview as Top Student in the 2014 KCSE national examinations



Ernest Ochieng'

Ernest Ochieng' Omondi is an 18 year old young man from Nairobi, Kenya. He is an alumnus of the prestigious Alliance High School -the best performing high school in Kenya. He sat for the Kenya Certificate of Secondary Education Examinations (KCSE) in 2014 and scored a straight "A" of 84 points. In his Kenya Certificate of Primary Education in the 2010 he was ranked among the top 100 students in Nairobi County and among the top 200 in the country. He aspires to be a Civil Engineer and
Writer.

Following the conclusion of his high school education Ernest is pursuing his interests in drawing and writing as well as currently learning how to play the violin on top of his skills with the piano
and the guitar.

From an early age Ernest has been an avid contributor to multiple clubs and societies. Institutions which have helped shape him into the person he is today. An active member of the scout Movement, he was the Troop Leader of the school's troop in his eighth class of Primary
School. He was also in the Environment club and worked hard to populate his former school's compound with trees.

As a leader, he served as Chairman of his house in Alliance and led the house to the top positions in the inter-house competitions in music, drama and sports.. Ernest was a prefect and served in the compound department ensuring the cleanliness of the school. Despite the
demands of his leadership roles he was zealous participant in extra curricular activities. He was a pioneer member of the President's Award club-leading its members to attaining the bronze, silver and gold awards-, he led the school choir in the capacity of the only form three official and later on as the choir secretary to attain three trophies and be invited to two galas in consecutive years.

As the research club secretary he led the club to the national stage of the Research Club Competitions sponsored by Innovate Kenya and as The Writers' Club's Managing Director was in charge of designing and editing the school's magazine "The Bushfire". He was also a member of the Environmentalist's club, the dramatic society, the Writers' and Journalism club, the Research club, the French club, and the scouting movement.

As a Writer, Ernest is passionate about shaping the minds of the youth in Africa and has plans of writing books that will hold their own on the best-sellers' lists with the likes of "Harry Potter" and "Half of a Yellow Sun". He is a young man with dreams of being the subtle nudge that will lead to the kinds of decisions that his favorite poet -Robert Frost- wrote about ,'…two roads diverged in a yellow wood, and I, I took the one less traveled by and that has made all the difference.'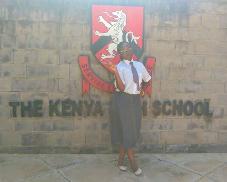 Bertha Onduso

Bertha is an 18 year old Kenya High School alumni .She scored an A of 81 in KCSE 2014.

Following the completion of her high school education she is now pursuing her two things she loves most: languages and volunteer work. Her aspiration in the future is to be a pediatrician since she loves the joy children bring into everyday lives.

As the chairlady of her school's German club, she managed to elevate the school's name in the national music festivals where she emerged 3rd in the German public speaking in 2013. She also took part in the German exchange programme in the same year.

She was also the chairlady of the disaster management club, a member of the tax club and Ambassadors of Character and an active member in the Christian Union.

Her mantra in life: Life is never about you, it's about the impact you have in others' lives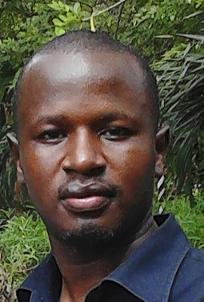 Erick Ochieng'

Ochieng' is admitted to join University College London (UCL) in the United Kingdom to pursue a Master of Science degree in Global Health & Development from September 2015.
He topped the July 2013 graduating class of Kenyatta University Biotechnology students earning a Bachelor of Science degree. Having won one of twenty-five (25) internship opportunities from among 1,500 applicants Erick worked as a health research scientist within the international capacity building initiative at KEMRI-Wellcome Trust Research Programme (KWTRP) in Kilifi, Kenya.
During the internship, he studied the molecular pathogenesis of cerebral malaria with a focus on the important plasmodium falciparum erythrocyte membrane protein 1 (PfEMP 1) which the malaria parasite uses to evade human immune responses. Prior to this research internship, Erick worked at KALRO-Biotechnology Center at the Nairobi headquarters as an undergraduate attaché in his pursuit of Biotechnology degree. During this period, he became a member of Open Forum for Agricultural Biotechnology (OFAB) where he represented the interests of Biotechnology students. This greatly influenced him to co-found High School Science & Technology Empowerment Program (H-STEP) in his undergraduate for the purposes of popularizing the study of sciences including Biotechnology in Kenyan High Schools.
It is in executing his leadership responsibilities as the Corporate Relations Secretary at H-STEP that he got involved with AKAD Education –Africa in 2012. Shaped by the mentoring process at AKAD, Erick founded Biosciences Society of Kenyatta University (BSS KU) that brings together thousands of students from ten (10) different biology based degree programs in Kenyatta University. As a legacy of his leadership contributions, the society continues to be one of the significant student bodies in Kenyatta University to date. Powered by a spirit of service, Erick volunteered as a social worker with the district social services office in his home district of Kisumu as a part of Kenyatta University-Equity Bank community outreach partnership. In this capacity, he trained community youth groups on financial management skills and led focused group discussions with HIV+ individuals on affordable healthy living among other roles.
Stemming from these experiences, Erick later served as the content & learning vice-president in AIESEC Kenyatta's Answers, Solutions, Knowledge (ASK) project on HIV/AIDS awareness in schools and colleges. In blending his research interests with his commitment to improve community livelihoods, Erick worked as a field assistant with the researched based NGO called Innovations for Poverty Action (IPA). From this work, he saw the potential in improving the collective lot of humanity through enacting sound policies informed by research based evidence. Shaped by his experiential awareness of the missing link between research outputs and policy practice, Erick is committed to bridge the gap by pursuing a research career that generate evidence to inform policy decisions.
It is against this background that he has presently volunteered as an assistant research officer to intern in a project to study the potential use of universal Anti-Retroviral Therapy (ART) enrollment of HIV+ individuals in preventing onward HIV transmission. The evidence generated in the study through KEMRI-RCTP/FACES program is expected to inform the review of global health policies on ART enrollment. Through his expected graduate studies at UCL that is consistently ranked among the top Universities on Earth, Erick aims to become a reliable link that connects research outputs to policy decisions and practice around the world. The role that demands a balanced blend of science, politics and leadership suitably fits this scholar, accomplished leader and lifelong associate of AKAD Education- Africa.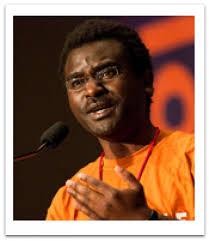 Mr. Teddy Warria

Teddy Warria attended Bard College on a Distinguished Scientist Scholar (DSS) scholarship (2004) and Woodrow Wilson School at Princeton University (2005) on a Public Policy and International Affairs (PPIA) Fellowship.

He serves as Director of Africa 2.0 International, Africa's Talking (K) Limited – mobile communication solutions, and Rotary Club of Westlands Youth Service, Nairobi, Kenya As Director of Made in Africa start-up Information Technology Company, Teddy focuses on strategic and organizational development of the company across the continent, including market access.
He developed aggressively Africa' Talking share of the market in a difficult environment from its inception in 2010. Africa's Talking has been able to position itself as one of the leading provider of high-tech IT infrastructure services in Kenya, using cloud-based tools, and providing one-of-a-kind API (Application Programming Interface). Elsewhere, he leads Africa 2.0 efforts of engaging Africans to use enterprising solutions for prosperity, and harness technology and Africapreneurs to advance Africa in the 21st Century through one-on-one diplomacy that reaches the grassroots.

Teddy is also a subject of the groundbreaking book series by Susan Wakhungu-Githuku, and a regular contributor of THE EDITION – Eastern Africa's premier Contemporary Career Magazine, providing ideas and insights on moving ahead in life and work, and Footprints Press Limited publications. Teddy's voluntary work includes an informal "Airlift to America" program, that has seen him and his associates send over 100 Keyans on merit-based scholarships to USA since 2000.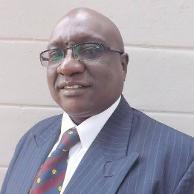 Rev. Dr. Julius Weche

Rev. Dr. Weche is also the Founder and CEO of Akad Education Group – Africa, an organisation that provides careers, mentorship and value based leadership training to school youth. He first had the idea at Harvard Business School's 12th Africa Business Conference in year 2010; a vision of providing opportunities for bright African youth to access world class academic training, internships and scholarship funding – especially for disadvantaged youth. He has since been internationally recognized and invited back to Harvard Business School as a panelist at the 13th Annual Africa Business Conference in year 2011, speaking on "Bridging the Technology Skills Gap" and 15th conference in year 2013, speaking on "Leapfrogging the Digital Divide". In year 2014, Dr Weche was invited to the Massachusetts Institute of Technology, MIT Africa Conference to discourse on "The Role of Entrepreneur Mentoring"

Rev. Dr. Weche holds a Master's degree in Business Administration (MBA) from DeMontfort University (UK) (2005), Veterinary Medicine degree from the University of Nairobi (1989) and did graduate studies in Dispute Resolution (University of Massachusetts, Boston -2010) with Negotiation studies (Harvard Law School's Program on Negotiation - PON, Boston, 2010), Governance (Nairobi International School of Theology - NIST, now ILU, 2009), Financial Management (Strayer University, Baltimore 2001). He has a certificate in Mediation with Metropolitan Mediation Service (MMS) (Boston, 2010) and is a PhD candidate with the Open University of Tanzania. In August 2014 he was recognised for his Education work with youth, and ordained by the Butere Diocese of the Anglican Church of Kenya (ACK), having studied Theology & Biblical Doctrine with the Nairobi Bible Training Institute (NBTI, 1984-1990).

As a Capacity Builder and Mentor, Dr. Weche has been Corporate Social Responsibility (CSR) Lecturer at Inoorero University, Head of Mentorship for Africa 2.0 – Kenya, Waali Country Manager – Kenya and Executive Director, One Kenya Foundation. He has the privilege of seeing several of his mentees obtain admission and scholarships to world class institutions, which include the African Leadership Academy, African Leadership University, Harvard University, Carnegie Mellon University, University of Bath, University of Pennsylvania and many others. His capacity building includes being Youth Pastor for five years at the Loresho Community Centre Church and as a Sensei in Shotokan Karate for over 30 years, training university students and adults.

Rev. Dr. Weche previously worked in the Diaspora as Founder and Managing Director, Leruo Services (Pty) Ltd. in Botswana for 15 years; Botswana's largest supplier of veterinary medicines and literally traveled around the world, working in China, USA, South Africa and several African countries. He is a Board Member of the ACK Butere Diocese in Resource Mobilisation, Think Tank and Khwisero Constituency Chairman, Narc Kenya political party. He is the author of the book, "Conflict and Deception in Relationships and Marriage" published on Amazon.com