Innovation, Entrepreneurship & Software Engineering Mentorship

Target: Upper Primary, High School, College
Date: Tue 28th Nov 2017 & 1st Dec 2017
(Moved from Tue 28th Nov due to political risk in Nairobi)
Location: MOW Sports Club, South C, Nairobi
We are pleased to collaborate with Cellulant due to their passion of mentoring youth through AKAD youth.
In 2008, Cellulant received the Pinnacle Award as the Top Middle-Sized Company in Kenya. Ten years later, Cellulant is in 13 countries, servicing 33 markets in Africa - reaching for the stars, dreaming big and making possible the impossible with global payments and online payment solutions for Africa. They are an excellent fit in mentoring youth for careers in Software Engineering.
Cellulant is working its way to connecting African consumers with up to 7M businesses to claim a piece of a $20B payments market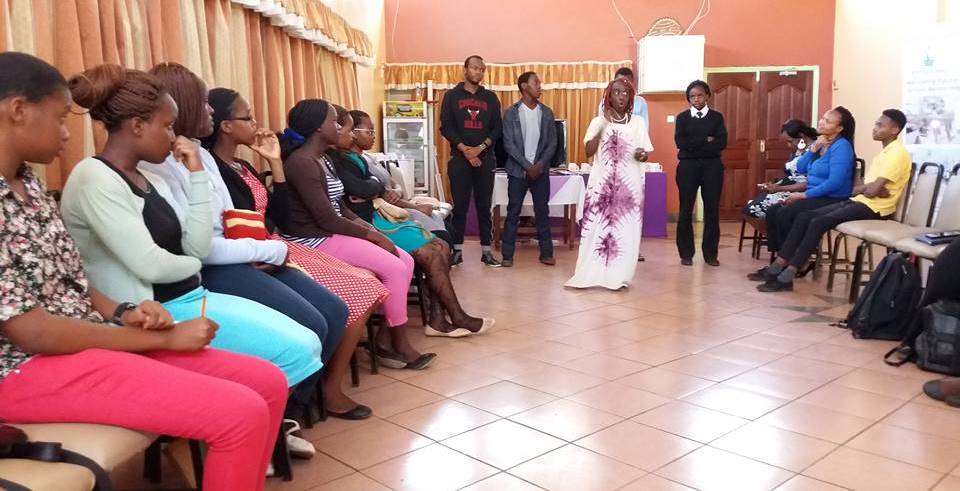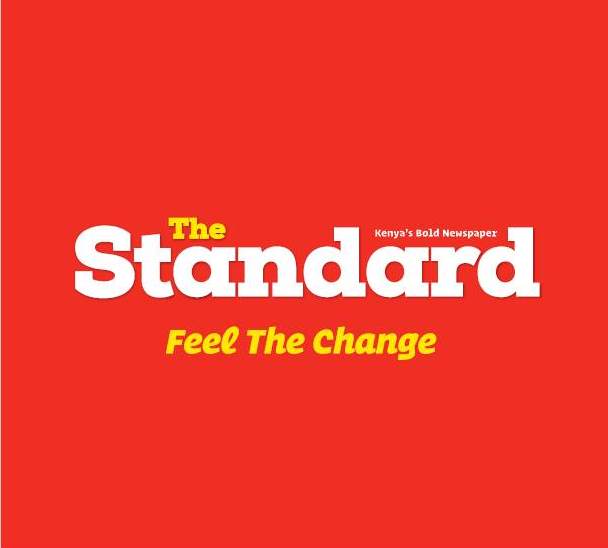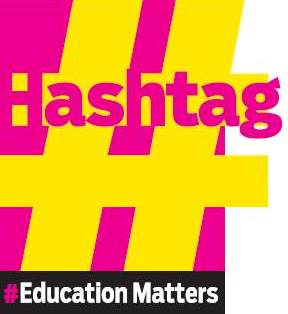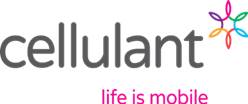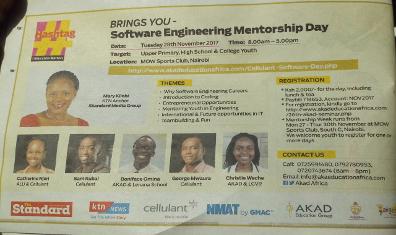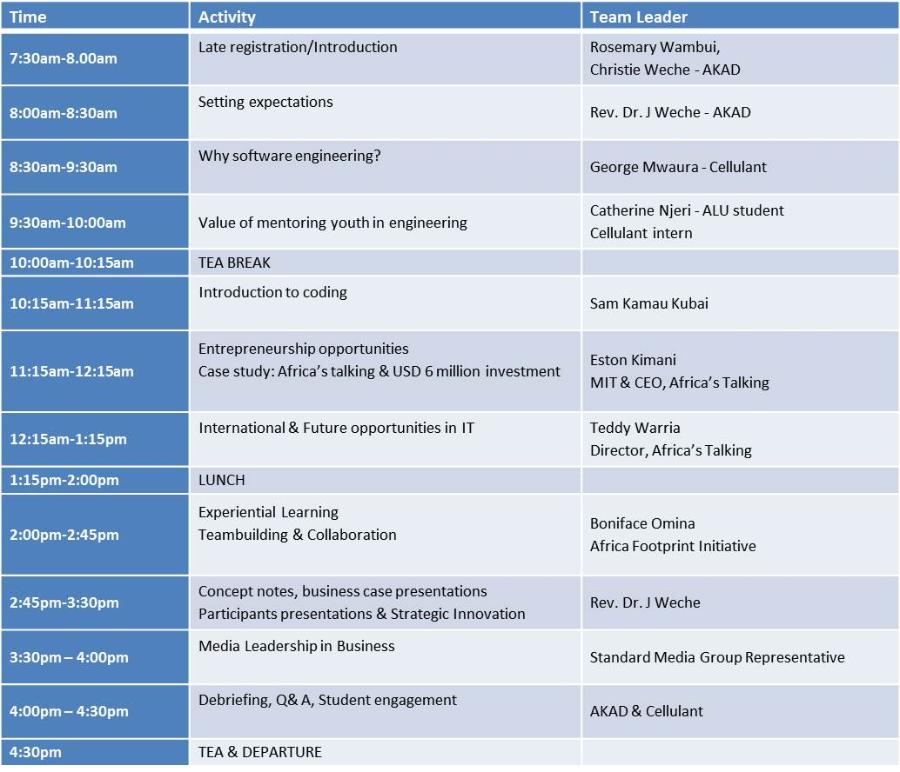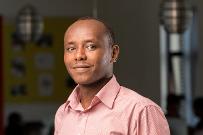 GEORGE MWAURA
Software Engineer
Cellulant Kenya
George Mwaura Ngigi is a graduate from Africa Nazarene University. He graduated in 2015 with a Bachelor's Degree in Computer Science. George Started working while he was still in campus. He did two PHD projects for two of his lecturers while he was still a student at the same University. He also volunteered to lecture his fellow students during his free time. George Started the journey of mobile application development in 2013 when he received a scholarship to learn mobile application development at Zalego Institute.
To date, he has been developing mobile applications for different companies and individuals. Before His graduation, George got his first Job at Zalego as a trainer where he worked for one and a half years then soon after he went into self-employment where he worked as a part-timer in a number of organizations (Ebonix Kenya, Zalego Institute among many others). In April 2017 he started working on a mobile application called DINGAH which he is still working on and making improvement on it each and every day.
The first application that George worked on was Wasafiri Transporters. George Has worked on a number of applications (Wasafiri Transporters, HypeMag, Dingah, Catho App, MULA) among many others.
In 2017 George Joined Cellulant after working as a freelancer for 1 year. At cellulant George works as a software engineer working on the mula application. Apart from software development George does poultry farming and he also likes singing and listening to good gospel music.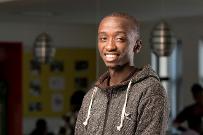 SAMUEL KUBAI KAMAU
Software Engineer
Cellulant Kenya
Samuel Kubai Kamau is a graduate from Jomo Kenyatta University of Agriculture and Technology, class of 2017 where he earned a bachelor's degree in information technology.

Samuel started programming at the age of seventeen. Before he went to university, he used to read his brother's computer science books and taught himself how to write elementary software. He continued training himself and in second year was able to land a position in a software agency where he primarily built websites for various clients. He however didn't stay for long in this position as he found the work there not as involving as he would have liked. Samuel quit and started building his own application to facilitate sharing of books and resources in his campus.
The app grew a user base of 2,000 before he could no longer afford keeping it up and running. In his third year he went back to employment; looking for a place where he would get mentored and a chance to grow; he got hired in a consulting firm in Nairobi, called Ralph Owino consulting but this was different from his previous firm, here the work was geared more to the cutting edge, he worked here for a year horning his skills as a web developer. After his time at Ralph Owino he went back to school for his final semester after which he graduated with first class honors and soon after joined Cellulant Kenya in early 2017 and was quickly in cooperated to the Mula Checkout team in which he has become very instrumental in to release their first stable release in November 2017.
Apart from software engineering Samuel enjoys playing and watching a vast number of sports in his free time.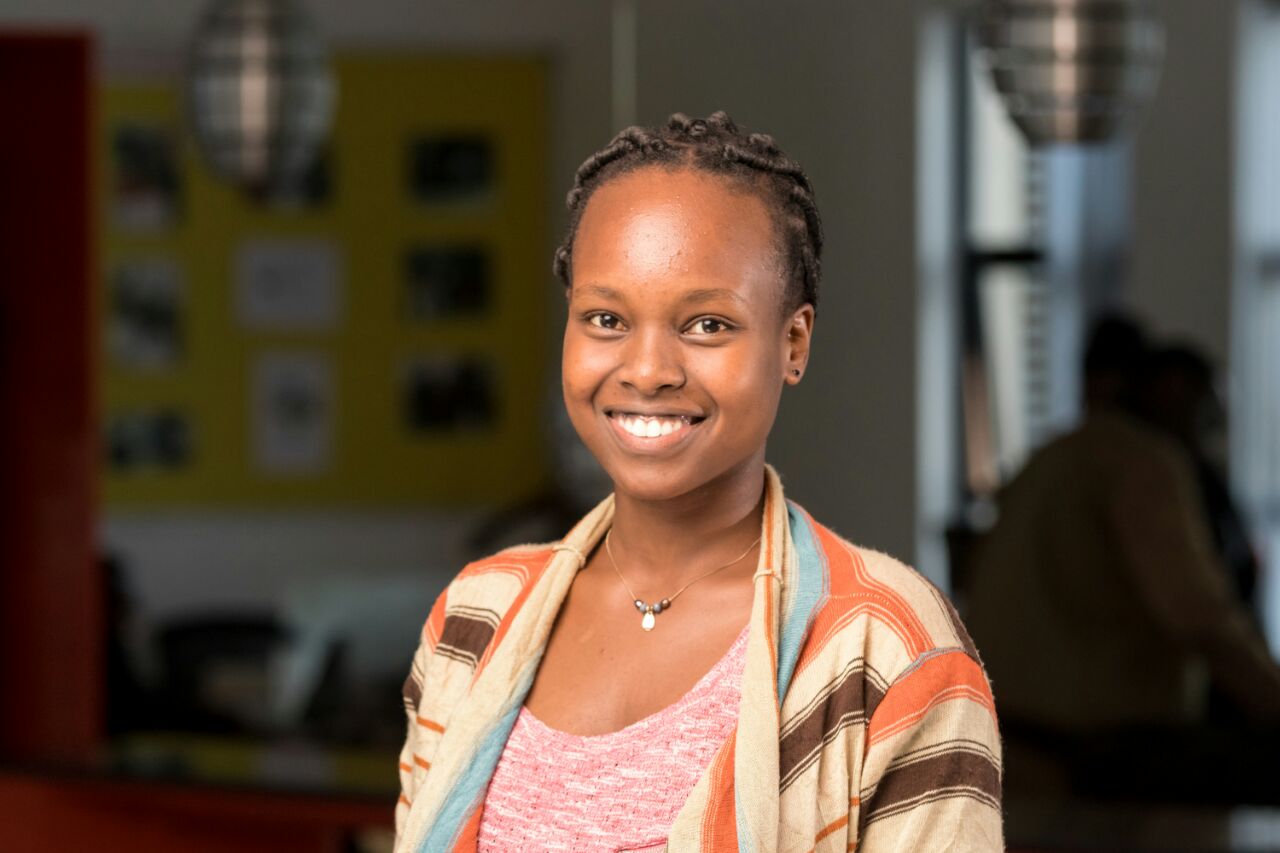 Catherine Njeri
Catherine is a second year Electrical Engineering student at the
African Leadership University (ALU) in Mauritius on a full corporate
scholarship.
She has worked on numerous projects in the Information Technology sector and is an advocate for more empowerment of the girl child in Science-related fields.
She currently chairs the Women in Tech Society on the ALU campus, having successfully held the first ever women's technology
hackathon on the ALU campus.
Catherine has worked with AKAD numerous times to reach
and inspire young students pursuing science-related courses.
She has had the opportunity to speak to over 3,000 high school
students through AKAD as well as thousands more through KBC Radio and T
elevision about her passion for mentoring future engineers.
Currently, Catherine is taking an internship at Cellulant Ltd. where she has spearheaded the streamlining of the group with a new Business Reporting process that saves the company over 10 hours on analysis every month. She also takes charge of training all country managers on the new reporting process. In addition, she works directly with the Chief Business Officer in articulating the company's product 'go-to market' playbook.
Catherine's aim is to play a significant role in using technology to create more efficient ways to produce and utilize energy on our planet.
Watch more about Catherine's tech inspirations here .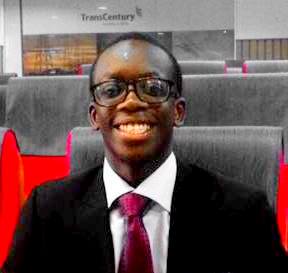 Boniface Omina
Boniface Omina s a young student leader in Lenana School. An alumnus of CITAM Academy-Woodley, Boniface sat for his Kenya Certificate of Primary Education examinations in 2014 and attained 405 marks. At the end of his final year at CITAM Academy, he was awarded for being the best sportsman of the year, pace-setter of the year and Senior School Captain. His great leadership and academic performance earned him an invitation to KBC and Hope FM radio stations where he talked about leadership, talents and academics among the youth. He also had the honour of interacting with Prof. P.L.O Lumumba and the Speaker of the National Assembly, Justin Muturi at the first annual grand meeting of the Barack Obama Leadership Foundation.
Boniface joined Lenana School in 2015, where he has been able to revive his school's Journalism Club. He is an active member of his school's Research Club and has attained certificates for best research presentation, earning his school First Position in the Level 1 competitions 2016.He is also a founder member of The African Footprint Foundation(https://www.facebook.com/africasmove/)aimed at helping and mentoring young children in under-developed areas and children's homes and also taking measures to reduce the social vices in society by inspiring the youth to be the change they wish to see in the world. They had their first major event on December 3rd 2016, The Campaign Against Drugs Festival, where they advocated against drug abuse through performed arts: songs, dances, spoken word and real life testimonies of people who overcame drug addiction.
Boniface is an AKAD peer mentor and has received opportunities to interact with icons like Dr. Vimal Shah-CEO BIDCO, Hon.Martha Karua and the Speaker of the Senate-Ekwee Ethuro. He has also had the privilege of attending the 2016 National Prayer Breakfast and has given leadership and mentorship talks in Lenana School and Precious Blood High School, Riruta and his former school, CITAM Woodley. He also mentors new AKAD mentees through peer-to-peer interactions. (www.akadeducationafrica.com/20th-Akad-Careers-Seminar.php) Boniface was one of the few young leaders of AKAD invited to the 2016 Effective Altruism Conference whose theme was Poverty Alleviation in Africa. Later that year, he received the privilege of speaking to the nation on KBC TV with AKAD regarding the engineering seminar in November and about his passion for software engineering. He is also an active member of the YALI Network where he has done online courses and earned certificates on Fundamentals of Starting and Running a business, and also a course on Servant Leadership.
Boniface enjoys reading novels, writing poetry and playing basketball. He wishes to pursue social entrepreneurship and a career in software engineering at the Massachusetts Institute of Technology, with a dream of starting his own software company in Kenya. Due to his passion for literature, he is currently writing a book about the effects of tribalism in Kenya from the eyes of a nine-year-old boy, separated from his parents at an early age. All this he pursues under the guidance of his friends, family and mentors.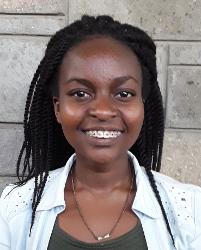 Christie Weche
Christie is a form two student at Loreto Convent Valley Road (LCVR). She is the Assistant School Nurse of the St. John Ambulance Club and is a deputy class leader. Christie is also a Peer Mentor, Mentee and the Quality Control Officer at the AKAD Education Group Africa, a mentorship organization providing mentorship for academic and career success.
In August 2017, Christie was privileged to work as an intern at Chibanda Makgalemele and co, a law firm in Gaborone, Botswana where she gained hands on experience on the ins and outs of being in the legal field.
Christie has previously been a Brand Ambassador for the Inua Dada Initiative, chaired by Kenya's First Lady, Margaret Kenyatta. Here she coordinated production of Public Service Announcements through auditioning, transportation and recording interviews of her colleagues who featured alongside prominent members of society such as former C.S for Education;
Jacob Kaimenyi
, Radio Presenter
Adele
Onyango
and TV Anchor
Lulu Hassan
. The Public Service Announcements were then aired on Citizen TV to help bring light to the challenges facing the girl child.
Christie realizes the importance of a wholistic education. While in Primary School as a 10 year old passionate about the arts, she led the introduction of new extra-curricular activities such as the National Drama and Music Festivals and spearheaded the revival of dormant clubs such as the Journalism club in Bellevue Primary School. She was recognized for this and shortlisted for a full- scholarship opportunities at the International School of Kenya (ISK).
Christie has been passionate about her giving back to her community and been involved in several community clean ups such as the 'Upper Hill Clean-Up', 'Mazingira Safi Initiative' and Safisha South B Initiative. She has taught primary school students as part of a community service project at Vigil School in Kawangware (a lower income area) starting a program that helps
students with English speaking skills to better compete in the global market.
Christie hopes to pursue a career in international law while simultaneously exploring opportunities in the art and design sector.