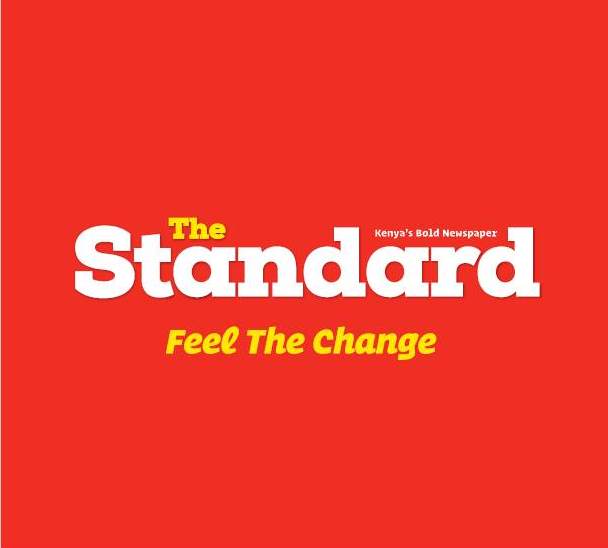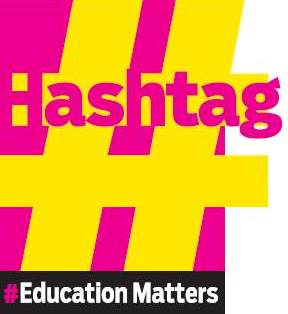 Media Mentorship Day
This event was held in August 2017

Chief Guest: Derek Bbanga & Hope Hajir
Location: Standard Media Group offices,

Target: Ages 10 - 25 years

Date: Event was held on Friday 25th August 2017. The event has ended.
Mentorship in TV Media for Career Success
Tour of KTN TV
Tour of Standard Newspaper
Tour of Standard Digital Media
Tour of Radio Maisha
Confidence Building
Media Writing Access to Hashtag
Media Career Success Talk
Timetable

of event
, please click to the right
Those registering as AKAD mentees, need to confirm that they have the following;
Mentor

Peer mentees

Younger youth the person is mentoring.

All this is documented to include vision, mission and goals, with documented Monitoring & Evaluation through essays followed up by respective mentors.
Map Location - Standard Media Group, Nairobi, Kenya
Student Testimonials

Mentorship Day of June 2017
AKAD Youth & Mentors in Media
Standard Media Group - Internship Programs
The Standard Group is the home of talent, and it is their business to nurture talent and instill the necessary skills .This is done through the SMG internship programs across all business units. Opportunities for internship programs are advertised, interviews carried out and successful candidates given a chance to cultivate their skill and knowledge

Standard Media Group - Graduate Trainee Programs - Scribes Inc. Program
This is a one year journalism training program that started in 2014. Selection of candidates is based on the candidate's natural journalism passion, demonstrated and consistent interest in journalism, an above average general IQ score and journalism competence.
Candidates are taken through all media platforms training namely; storytelling and news writing, feature writing, media law, ethics and court reporting, design and layout, online journalism and broadcast media. Once done with this program, they are multiskilled journalists who will be able to write on all platforms.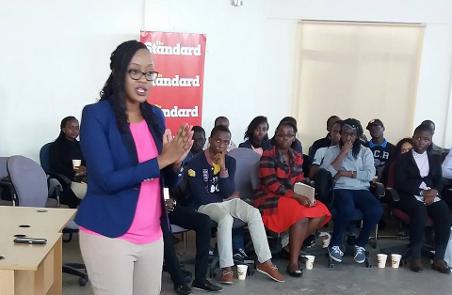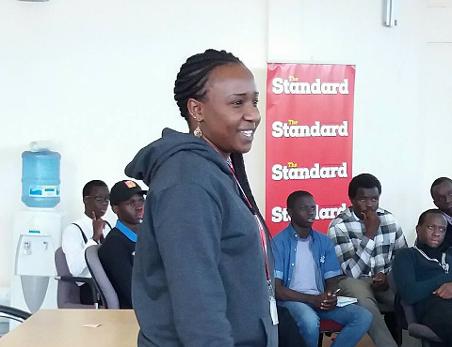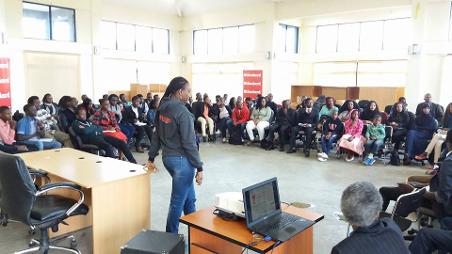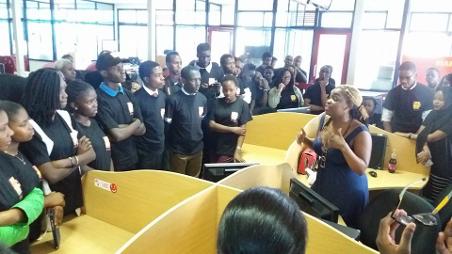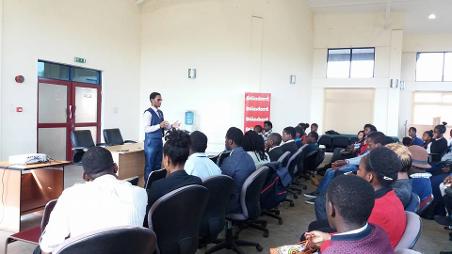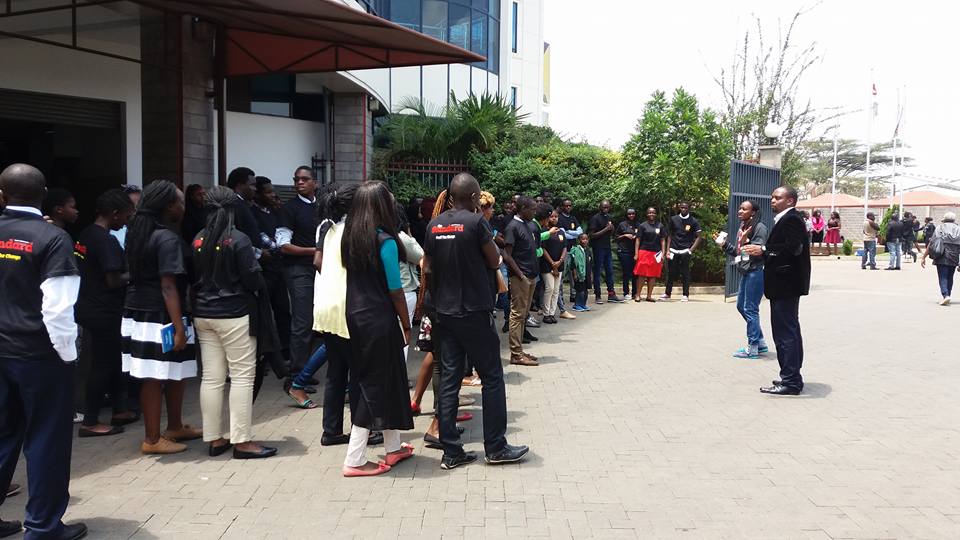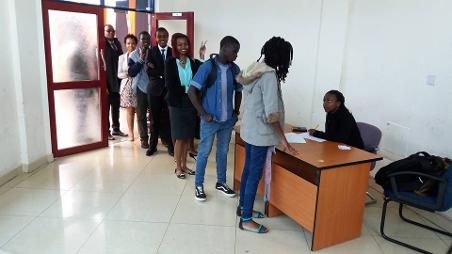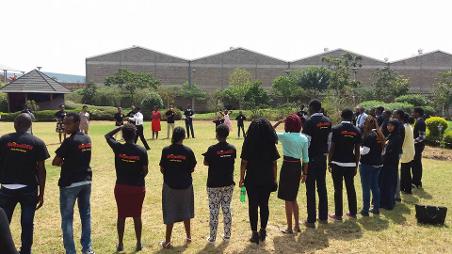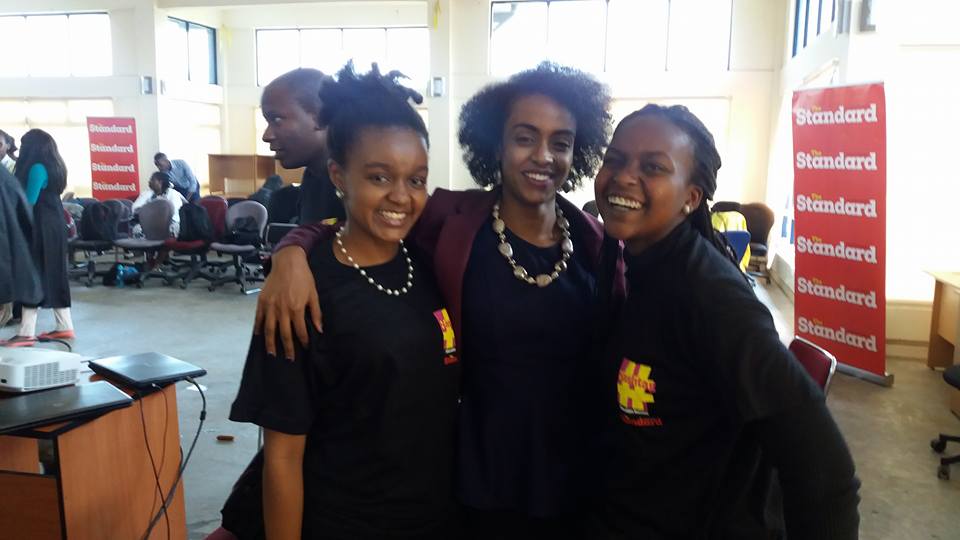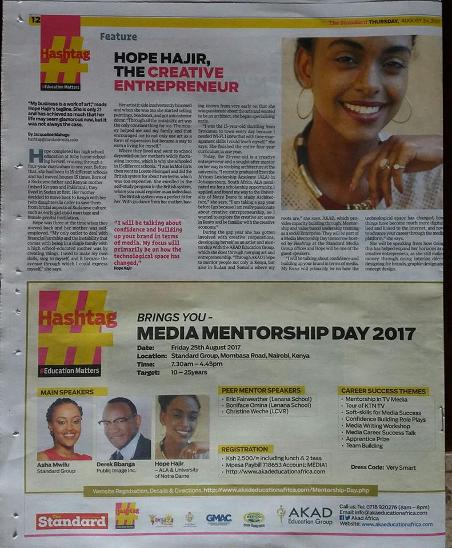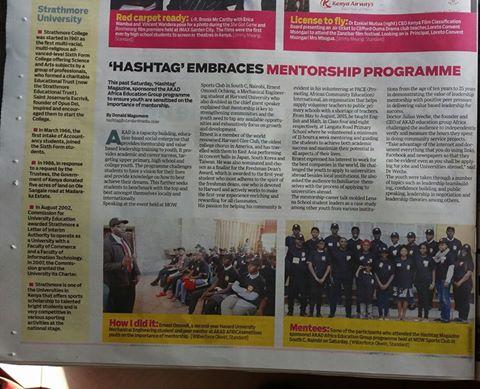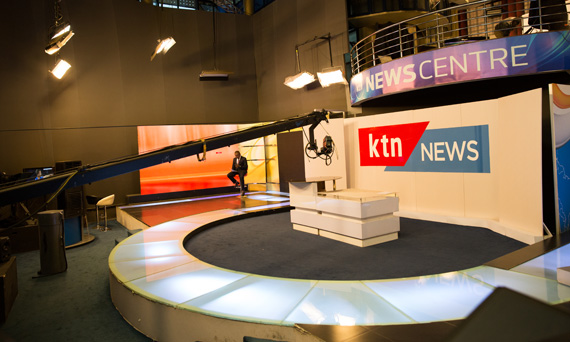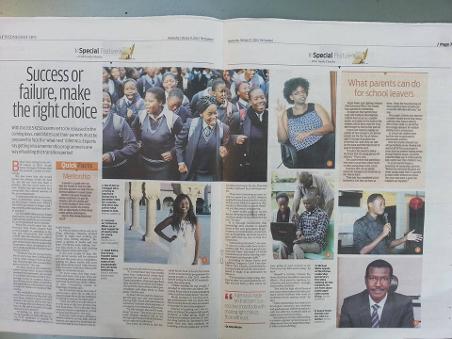 Our recent print media coverage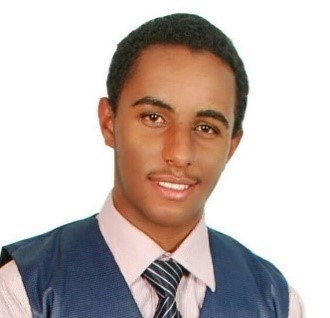 Eric Fairweather, Lenana School Captain 2017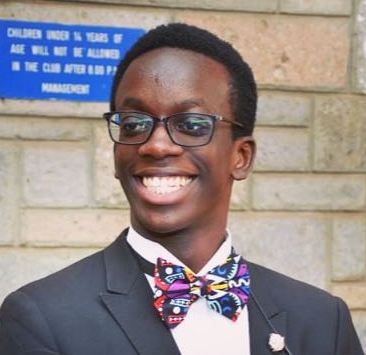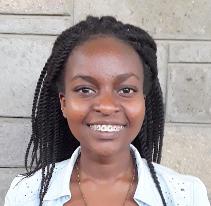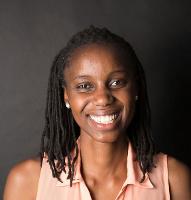 For an insight into our mentorship value addition, kindly refer to the select documents below


Derek Bbanga

An entrepreneur and Managing Director of Public Image, Derek works with organizations and professionals on improving the necessary soft skills, people branding, communication skills, and image which are crucial ingredients for success today. He calls these strategic communications tools – he works on equipping people with the strategic communications tools to enable them to carry out their duties with an air of confidence, sophistication and above all – professionalism that will mark them out as the best in the business. He believes your professional image should reflect your position, the organization's mission, and how you interact with others can influence perceptions of your skills, talents, performance, and career advancements. Derek has helped his many clients develop soft skills and an image and brand that truly represents who they are and how they want to be seen.

The organizations he has worked with range from banking, telecoms, hospitality, media, non -profit, manufacturing, and has trained senior executives, managers, professionals, athletes, public figures, politicians and students. Derek is a well known contributor in the media giving advice on communication skills, branding and image and is a regular writer in several magazines and newspapers He is currently finishing writing his first book on Civility and Etiquette in Kenya.
Derek has a political science degree from Connecticut in the U.S and studied for an MBA at the Helsinki School of Economics. He is a graduate of the Strathmore University Enterprise Development Centre and is certified in Image and Etiquette from the prestigious Colourworks International in South Africa.
Derek has over 12 years working in the corporate world in finance and communications. He worked in New York for the financial services firm Bloomberg in business development. He also worked for the Edhec Risk Institute in France a leading asset management research centre where he did analysis and research on asset, risk and portfolio management. He was also a senior consultant for the UK based strategic communications consultancy africapractice and set up their office in Nairobi.
Derek is also a keynote speaker at conferences, launches and sales meetings. He is known for his ability to connect with and capture an audience and has also emceed and moderated many events both local and international. Derek is involved as an ambassador with the Pan African Advocacy group Africa 2.0 and is also a fitness and nutrition trainer. We are privileged as AKAD to have worked with Derek from the very beginning of our academics and career success seminars in year 2010.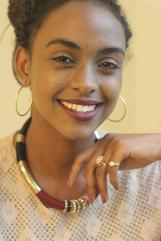 Hope recently graduated from the African Leadership Academy (ALA) in Johannesburg, South Africa - where she served as the Chairlady of the Student Government. She has been admitted to the University of Notre Dame on full scholarship worth USD 100,000 per year, as their first ever Sudanese student.
Hope is taking a Gap Year to be able to explore the art and Infrastructure scene in Kenya so as to gain more understanding of how to develop places, people and culture. She has so far designed The Sanaa Project that allows top development consultants to give free business advice to young artists who live in slums so as to develop their creative entrepreneurship skills. The project so far has three global business development consultants willing to partner with.
As a student at ALA, Hope was a member of the school choir and an acapella group. She was also an active member of the school's volleyball team and International Relations Club. She coached the ALA delegates who participated in the ALAMAU conference on diplomatic, public speaking and written skills. She was the Head of the Scholars program for an art enterprise on Campus, Sm'artrepreneurs which seeks to make art a viable career choice in Africa for the scholars. Hope was also elected as the Representative for the Class of 2015 in the ALA Alumni Association. She loves art, can sketch in detail, plays both guitar and piano, and paints during her free time.
With one parent hailing form Khartoum, Sudan and the other having the mixture of Pakistani and Kenyan roots, Hope is a diverse young lady who is set on becoming one of the most influential creative-social entrepreneurs in Africa. Having been raised in an extremely low income single family, she has always relied on being resourceful and innovative as a means to make life easier and these values have manifested themselves in the work that she has done.
Hope began doing volunteering work since the age of 10, which helped her develop her passion for a better Kenya in terms of infrastructure, art and women's rights. Hope started a business to help her drought- stricken community by supplying recycled bottled water directly to houses. The profits from this project funded the purchase of a large-scale water recycling system that helped to utilize the little water that was available. The system is running till this day. She volunteered at the Mama Sarah Obama Foundation, and was one of their representatives at the Transform Kenya Awards. Hope was invited to attend to speak at women's rights conferences like Girl's Summit Kenya and PLAN International's "Because I Am A Girl" dinner. She is also the Youth Ambassador for SOWO (Safe Guard Orphans and Widows Organization).
Being very passionate about the arts, she also taught art to special needs students at the Unity College. She was also selected to be one two Africans to participate in the Winchester International Symposium to discuss urban development with young leaders from around the globe.
Hope aspires to be a creative-social entrepreneur so as to use her artistic, entrepreneurial and academic skills to tailor solutions to development issues such as slum upgrading, an independent art sector in Africa and women's rights movements.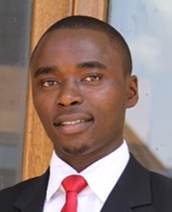 Eric Kimonyi

Eric Kimonyi is a young enthusiastic leader and a passionate peer-mentor. He is the founder of Students Beyond Classrooms Initiative; whose main objective is to foster soft and professional skills among college students through peer-to peer training. He is also the First Vice-President of the Association of Business Students at the Technical University of Kenya; a class group leader and an active member of the Finance Students' Association.
Being a peer mentor, Eric has added value to 84 000 students from 84 schools in the country; training them on matters of academic excellence, educational success, personal branding and leadership. He has also been featured on national Tv and Radio stations (KBC, KTN and KCB English Service) talking about the quality of education in the country, leadership and mentorship respectively. This has further helped him to reach out to thousands of young people across East Africa and beyond.
Eric is an associate of AKAD Education Group-Africa, in collaboration with the Graduate Management Admission Council (GMAC) on the value of the Graduate Management Admissions Test (GMAT).
Eric is currently a fourth-year student at The Technical University of Kenya where he is studying a Bachelor degree in Commerce, (Finance major). He is an alumnus of Lenana School-a top national school in the country. He was the best pupil his primary school and the third best pupil in his district ( Mukaa) in 2008 when he did his KCPE, scoring a total of 408 marks out of the possible 500. During his high school, Eric demonstrated a great passion for leadership and education and was entrusted with several leadership positions in his third and fourth year; House Captain, Ushers' chairperson, Peer-educators' representative and the French Clubs' vice chairperson hence promoting the moral and the spiritual life of the Lenana School Community.
Eric believes not only in adding positive value to himself but also in being of value to others.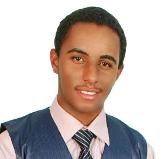 Eric Fairweather
Eric Fairweather is a form 4 student at Lenana school previously of Greenyard junior school where he scored 423 marks in KCPE. Eric is an AKAD peer mentor who brings visionary /revolutionary leadership and small project management to the table. He is an epitome of the saying "stay hungry and foolish" by Steve Jobs, and helps others acquire the same principal in life. He is very comfortable with public presentations and is very flexible in sharing expertise with others and helping people achieve positive goals.
Eric takes active part in a myriad of activities, but most importantly: He is a board member of a new secondary school banking company set to take root in secondary schools nationwide. He is also a co-author of a mathematics revision manual. He is a member of the school's student leadership currently elected as the School Captain previously holding the environment and sanitation office, council secretary form 2 post & deputy class prefect, form 1. (
https://en.m.wikipedia.org/wiki/Lenana_School
). He is the founder of the Diverting the Winds Campaign which has taken root in Ngando area as well as its branch being adopted as a school ministry, this has instigated his mentees to start the African Footprint initiative and Hold a Hand campaign.
Eric is the deputy chairman of Science club, coordinator of Greenlight club as well and treasurer of Sunday school ministry. He is a peer counselor at his school, as well as being a Sunday school teacher where he taught youth at PCEA Mugumoini. He plays rugby in his school's first team and also for Ngong RFC. He is a member of the Red Cross society and is a trained first aider. He mentors at his previous school, Wings to fly scholars at CSB forums as well as current and former school mates.
Eric was aired on KBC TV channel for an hour on the show Goodmorning Kenya on Mentorship and youth leadership. Eric was sponsored to attend a week-long conference on leadership at Kigali Rwanda which he attended in August 2015, EAGx conference on Effective Altruism to Alleviate Poverty, Peace Stakeholders Conference at Laico regency as well as Mentoring Future Leaders and Mentoring Future Leaders at Bidco and Kenya power respectively.
Eric attended the 2017 national prayer breakfast on invitation from the speaker of Senate Hon. Ekwee Ethuro. Eric spoke to an audience of 4000 Wings to fly scholars on community building based on his experience in Kigali Rwanda at their congress in December 2015. He is an environmentalist in his school and beyond where he recently spearheaded the planting of 4,000 trees (school). He has also set up a new dustbin system in his school which is managed by student volunteers. He culminates all these works on the core values of diligence, integrity, constant self-improvement and value based leadership.
Eric seeks to engage in potential enhancing activities as well as improve his solution providing capacity in his quest to enrich others and become a global citizen and build the people around him.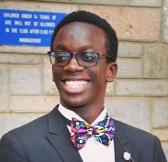 Boniface Omina
Boniface Omina is the co-founder of
The African Footprint Initiative
; an initiative aimed at mobilizing the youth to make a positive impact in the society. They carry out activities such as volunteering in children's homes and organizing youth-impactful events.
His passion for literature and love for his country has him currently writing a book about the effects of tribalism in Kenya from the eyes of a nine-year-old child. The book is titled The Village Pawn and he plans on completing and publishing it in the next two years.
Boniface has a keen interest in social entrepreneurship. He observed that many students in the Kenyan education system do not have a firm understanding of their career choices. This led him, in partnership with software engineers at Africa's Talking, to create an online platform called STUDENT 54 where students can interact with career professionals. Through this they can learn more about their careers first-hand from these professionals and also build networks through the interactions.
His leadership path was revealed to him when he joined AKAD in 2016. AKAD has been able to mold him as a transformational leader; where he identifies needed change in the society, comes up with solutions and inspires his fellow peers towards his vision. He was able to notice the high social degradation amongst the youth due to drug abuse and through his initiative, organized
The Campaign Against Drugs Festival
. In this event he brought together a large youth presence and had drama performances, songs and dances to sensitize the youth on the harmful effects of drugs.
Through AKAD, Boniface has been able to mentor his fellow peers in AKAD events such as the 20th AKAD Careers Seminar and made meaningful networks with people such as Dr.Vimal Shah, software engineers at Africa's Talking and Hon. Martha Karua at the NARC Kenya headquarters.. The value that AKAD has added to his life is immense and he has been able to share this on KBC TV prior to the 3rd AKAD Engineering Seminar in November 2016. His networks with AKAD also provided Boniface with an opportunity to represent AKAD in Precious Blood High School Riruta to share on his journey with AKAD and the value of youth mentorship.
Boniface looks to pursue a career in International Relations at The African Leadership University and also venture into Social Entrepreneurship. He aims to achieve the latter by starting off with his online platform STUDENT54 and building his entrepreneurial skills through online courses on YALI Network.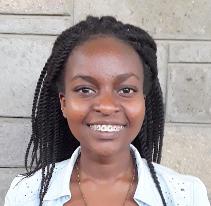 Christie Weche

Christie Weche is a high school student at Loreto Convent Musongari, where she is passionate about First Aid and Soccer. She was previously at Bellevue School, where she scored 394 marks in KCSE; four A's and one B grade. She is interested in Medicine, Psychology and Fashion design, and has been mentored by Professor Mugendi M'Rithaa, Professor and Senior Lecturer in Industrial Design at the Cape Peninsula University of Technology (CPUT) in South Africa and President-Elect for the International Council of Societies of Industrial Design (Icsid).
Christie has always been one to think creatively and look for solutions to improve her community. When she joined Bellevue School in Std. 4, she introduced creative arts: Music leading to the school's participation at the Kenya National Musical Festival at regional and national level. This led to many other activities which gave way to discovery of undiscovered talent among students, for which she has featured on KBC TV.
Through the AKAD Education Group platform, she has shared this story to inspire hundreds of students at schools. Schools include Alliance Girls High School, Limuru Girls and The Kenya High School (https://youtu.be/IQXIiyJ53l0 ) where she has shared the stage with Professor Ambassador Michael Koech, Professor Elizabeth Maleche-Obimbo, and Dr. Wanyanga among others. Seminar events have included Kenya Power ("Mentoring Future Engineers" - https://youtu.be/acyCYUEtsvc) and Bidco Africa ("Mentoring Future Leaders" - https://youtu.be/QInxJoj_wrU) sharing the stage with Dr. Vimal Shah, CEO Bidco Africa. She is consistently motivatied by successful AKAD mentees that are regularly admitted to top, world class academic institutions such as Harvard, Stanford, UPenn universities to aim for success as there is no limit.
Christie has been a Brand Ambassador and coordinator with the Inua Dada campaign of TV Anchor-Journalist, Janet Mbugua. Here she has mobilized classmates and friends: Brenda Wanjiru(13), Fatma Mohammed (13), Ashley Kigen (18) who have spoken on national television about the problems facing the girl child. She managed the auditioning, recording, transportation and production which led to the screening of the Public Service Announcements (PSA's) on Citizen TV. These are available on YouTube at
Christie has a passion for writing and has received several awards by her former school in the writing competitions organized by the English Depaetment. This includes competition essays by the Girrafe Centre. Although she did not win, the experience and practice helped sharpen her skills in essay writing, time management and critical thinking. Her passion for the community has led to her participation with enviromental organization Mazingira Safi Initiative through which she has cleaned streets with assistance from the Nairobi City Council. Christie looks forward to working with the Out of the Streets organization by mobilizing herself and others to donate books which will go to building a library for rehabilitated street kids.
Christie is responsible for Customer Service, Procurement and Quality Control at AKAD. In the August 2017 holidays she will be exploring Africa by traveling through Tanzania, Zambia and Botswana - adding to other international travel experiences.