SAT Preparation - Undergraduate Admission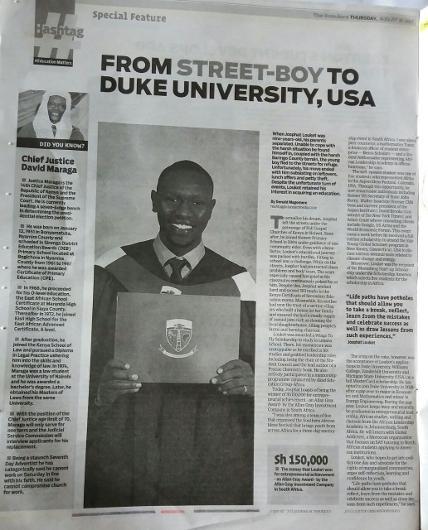 Josphat Lowoi
, featured in the local
press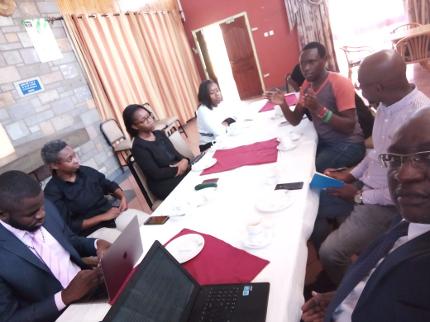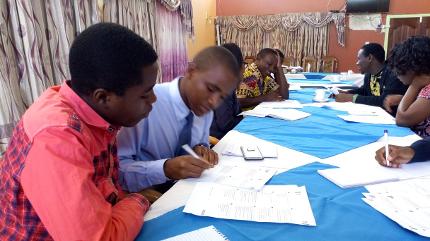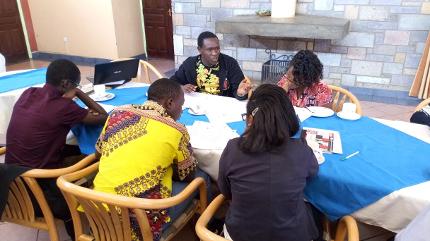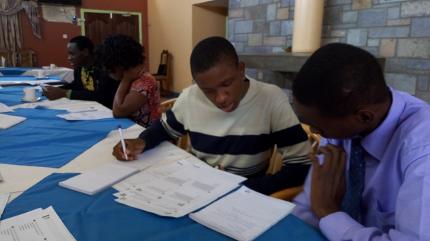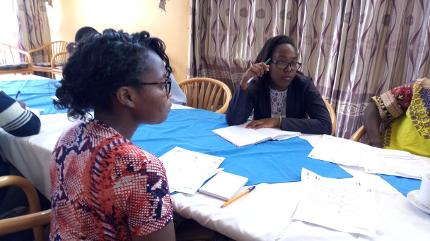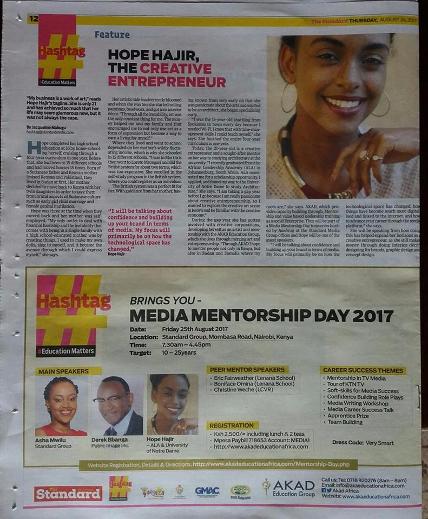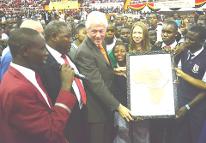 Josphat Lowoi with US President Bill Clinton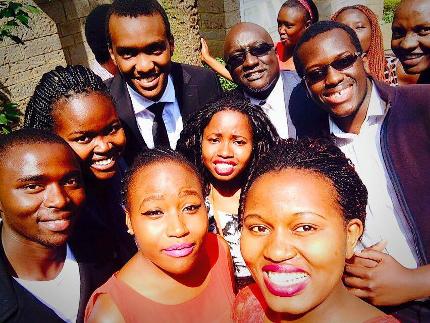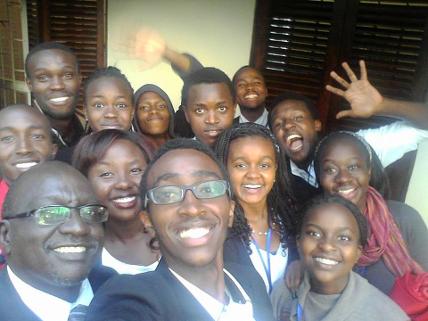 AKAD offers SAT training on an individual, one on one basis for a fee -
offered by available AKAD mentees, who have succeeded in the SAT examinations and are admitted to top, world class universities. They include, but are not limited to;
Joan Nekoye admitted to Brown University (2020)
Josphat Lowoi admitted to Duke University (2018)
Ernest Ochieng, admitted to Harvard University (2016)
Profiles of these are available below.
Contact us by
email
or calling
during business hours
us to express your interest
SAMPLE SAT TRAINING SCHEDULE
Public SAT Information sessions
This event was held on Tue 23rd January 2018, , 9:00am to 1:00pm (before Cornoa & Social Distancing)
Location: MOW Sports Club, South C, Nairobi
Key Presenter
: Josphat Lowoi, admitted to
Duke University
(2018) on scholarship worth USD 80,000 per year for 4 years.
International students and the SAT

The SAT® Program tests is taken in over 175 countries outside the U.S. by over 200,000 students.
The SAT and SAT Subject Tests™ are offered overseas six times a year: in October, November, December, January, May, and June.
What is the SAT?


The SAT Reasoning Test (formerly Scholastic Aptitude Test and Scholastic Assessment Test) is a standardized test for college admissions in the United States, testing Writing, Critical Reading and Mathematics. It is an admission requirement to most colleges and universities in the United States of America and Canada. Over 1.7 million candidates took the test in year 2017.

The SAT is owned, published, and developed by the College Board, a non-profit organization in the United States. It was formerly developed, published, and scored by the Educational Testing Service which still administers the exam.
Our SAT preparation
does not
include the cost of booking for and taking the actual test. These are subject to SAT test center schedules in different regions and countries.
SAT Benchmarking
The Harvard 2009 undergraduate applicant pool was similar to the previous year's with the following scores;
56 percent scored 1400 or higher on SATs;
Almost 2,150 scored a perfect 800 on SAT verbal test;
More than 3,200 scored an 800 on the SAT math;
Nearly 3,200 were valedictorians of their high school classes
Valedictorian is an academic title conferred upon the highest ranked student among those graduating from an educational institution


The SAT is offered seven times a year in the United States and six (6) times at international sites.

The current SAT, introduced in 2016, takes 3 hours to complete plus 50 minutes for the SAT with essay. SAT Scores range from 400 to 1600; combining test results from two 800-point sections: mathematics, and critical reading and writing
Why should students take the SAT?
Students and parents often ask why it is important to take the SAT. Reasons include:
All colleges accept the SAT as an objective measurement of students' college readiness.
Used with GPAs and high school transcripts, SAT scores allow colleges to fairly compare applicants.
Taking the SAT gives students access to scholarship opportunities.
Most colleges require an admission test like the SAT.
The SAT provides students with the most comprehensive performance feedback of any admission test.
FURTHER INFO IS AVAILABLE FROM THE COLLEGEBOARD WEBSITE accessed by clicking here.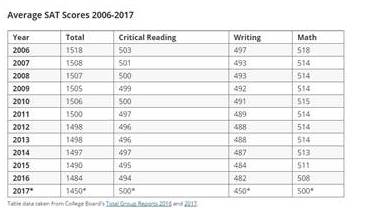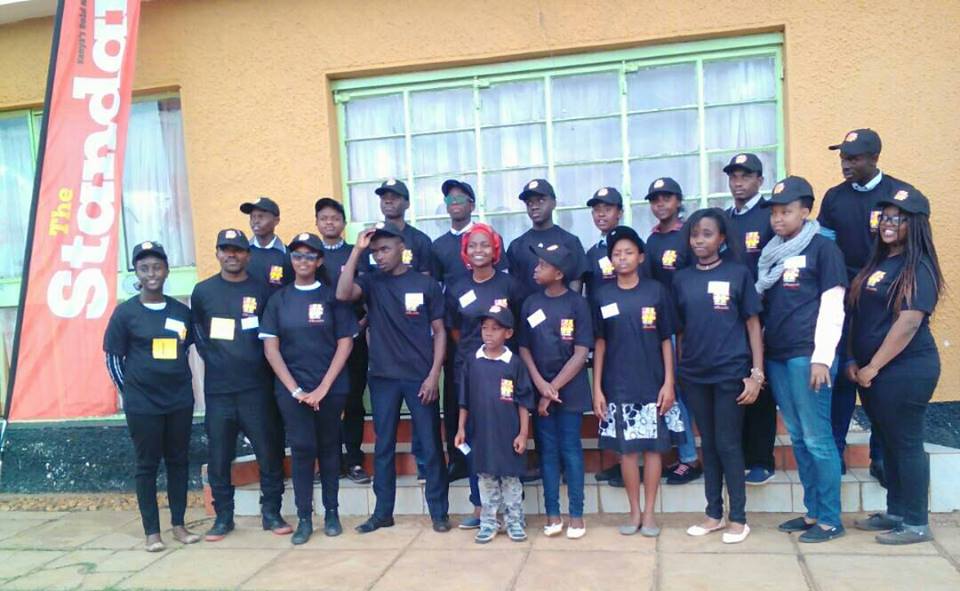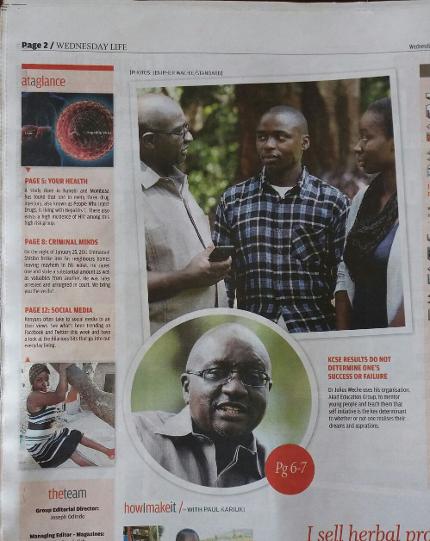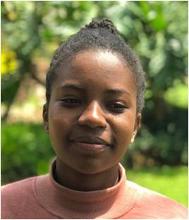 Joan Nekoye

Joan has been admitted to Brown University, a private Ivy League research university in Providence, Rhode Island, USA; founded in the year 1764. Joan will be pursuing a double major in Computer Science and Psychology.
Joan scored an "A" in the 2018 KCSE national examinations, becoming the best student in Western Kenya and among the best nationally in Kenya. She obtained admission to the University of Nairobi to study medicine, as well as being offered a full scholarship to study Computer Science and Informatics at Strathmore University.
Joan is an associate and a scholar of the Equity Group Foundation where she mentors "Wings To Fly" scholars and was an intern with Equity Leadership Program serving as a Customer Relationship Officer for Equity Bank Limited, Ongata Rongai Branch.
Joan is an AKAD Peer Mentor, having joined the AKAD Education Group - Africa as a high school, form 2 mentee at Booker Academy, through the "Mentoring Future Leaders" program with Dr. Vimal Shah and BIDCO Africa Ltd. Mentorship solutions included the "Media Mentorship" with Standard Media Group, through which her AKAD her Peer Mentor is Josphat Lowoi, currently at Duke University, USA; a private research university in Durham, North Carolina, USA founded in year 1838.
Within her Gap Year, Joan has been helping high school students understand the process of pursuing education abroad by offering SAT and ACT training and the College Application process. She is also a part-time tutor in Math and Sciences for students preparing for KCSE examinations.
Within her free time, she advocates for social justice- a topic she has grown to be passionate about- by spreading awareness and highlighting gender equality, mental health, student depression among others. Joan aspires to establish her own startup, where she hopes to create positive social change.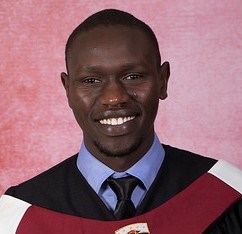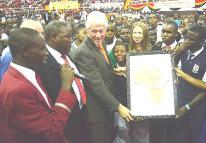 Josphat Lowoi
Josphat Lowoi is a graduate of the African leadership Academy (ALA) in Johannesburg, South Africa (2017) and is currently admitted to Duke University (USA) on a us$ 80,000 per year MasterCard Scholarship.
Josphat presented a memento to and thanked former USA President Bill Clinton after his speech in Kasarani Sports Centre, Kenya on behalf of nearly 10,000 Equity scholars and Equity Bank officials as an active Peer mentor and "Wings to Fly" Scholar in the Equity Leaders Program, April 2015. He has given back by speaking to several schools, such as The Alliance High school, Lenana School, Precious Blood-Riruta, Ngubereti High school and others.

In March, 2016, Josphat was one of five students selected to represent Africa in the Aspen ideas festival, Colorado, USA. The program pays all the expenses to attend the prestigious Aspen Ideas festival, an exceptional gathering of change drivers and the best brains on in the world at the Aspen institute in the Rocky Mountains of Colorado.

Through this opportunity, he met remarkable individuals ranging from US secretary of State, Mr. John Kerry, Walter Isaacson (former CNN Boss and current president of the Aspen Institute) David Brooks (Columnist of the New York Times) to Adam Grant whose consulting clients include Google, US Army and the world Economy Forum.

Josphat is a Yale Global scholar, a recipient of a full tuition scholarship to attend the Yale Young global Scholars program in New Haven, Connecticut, USA to discuss various seminal texts related to Climate change and energy.

At the African Leadership Academy, Josphat was part of the team that organised the Southern African Ideas festival; a three day event held in South Africa that brings together innovative youths from across the continent and connects them to global mentors such as Jon Harari, CEO of WindowsWear.
Josphat is a Peer Counselor and a Student Ambassador representing ALA in official functions like media interviews, facilitating guest speaker sessions and welcoming guests, such as Michael Joseph, former Boss of Safaricom in Kenya.

Prior to joining ALA, Josphat was the school captain of The Lenana School and an author of a chemistry book. He is an Associate of Akad Education Group-Africa, where he participates in several mentoring activities, such as the signature "Mentoring Future Leaders" seminar with Dr. Vimal Shah at Bidco Africa.

Upon graduation, Josphat seeks to further give back to society by passing on skills acquired at ALA to European students attending Leaf School in Slovakia. He is admitted to Duke University, USA.

Josphat has regularly been in the Kenyan national press such as in "The Daily Nation" newspaper after posting excellent KCSE results and being featured in Equity Group foundation magazines. More information is available at the links below.

http://www.nation.co.ke/news/KCSE-stars-who-overcome-great-obstacles/-/1056/3102608/-/joiboz/-/index.html

http://equitygroupfoundation.com/our_pillars_testmoni/josphat-loukot-lowoi/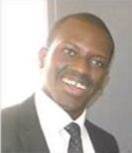 Ernest Ochieng
Ernest Ochieng' Omondi is a second year student at Harvard University, graduating class of 2020. When admitted to Harvard. He is one of 2,000 students that received admission out of 39,000 applicants. He was also offered admission and scholarships by other top, world-class universities such as Duke and Drexel Universities, where he was a recipient of the prestigious merit-based Karsh International Scholarship at Duke University, having been selected from over 6,000 international applicants from all over the world.

Ernest is a member of the Harvard University Glee Club, a 60-voice, all-male choral ensemble at Harvard University. Founded in 1858 in the tradition of English and American Glee clubs, it is the oldest collegiate chorus in the United States of America, and through which Ernest has been on tour to South Korea, Taiwan and Japan.

Ernest is a budding writer and blogger; the Kenya Power Apprentice, as winner of the nationwide Kenya Power #PoweringKenya Essay competition for which he was rewarded with KES 50,000 and opportunity to apprentice Dr. Ben Chumo, MD & CEO Kenya Power. He is an alumnus of the Alliance High School, the best performing high school in Kenya where he sat for the Kenya Certificate of Secondary Education Examinations (KCSE) in 2014 and was among the top students in the country, scoring straight 'A's in all his 8 subjects and the maximum possible 84 points.

As a Mentee and Aassociate at AKAD Education Group-Africa, he has been a regular guest and motivational speaker at events, such as "Mentoring Future Engineers - with Kenya Power", "Mentoring Future Leaders" with Dr. Vimal Shah and information sessions on securing admission into top, world class universities. He has been a leader in giving back to youth, through speaking at several high schools, which include, but are not limited to, Lenana School, Alliance High School, Moi Girls High School-Nairobi. He has regularly been featured in the Kenyan National Media, on Citizen TV's 'Monday Special' discussion on 'Disciplining Children' (YouTube link below), K24 TV, KBC English Service (96.6 FM) Breakfast Show with John Kago – speaking on academic success, career planning with applications and admission to top world-class universities abroad.

Ernest plans to use his future studies in Civil and Structural Engineering to provide cheaper, stronger and more functional structures in the far-reaching parts of the country through innovative research and breakthroughs, providing energy-saving solutions to buildings and structures that greatly improve the country's infrastructure and at the same time combats environmental problems such as global warming.o YouTube Videos are below;

Lenana School Careers Talk- www.youtube.com/watch?v=j62i6ObiZXg
Mentoring Future Leaders - www.youtube.com/watch?v=ks8gsk9pqMU
'Disciplining Children' Citizen TV - www.youtube.com/watch?v=u5FOhGT4-FE