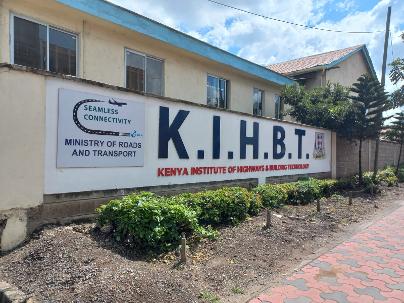 Location of KIHBT, Nairobi Campus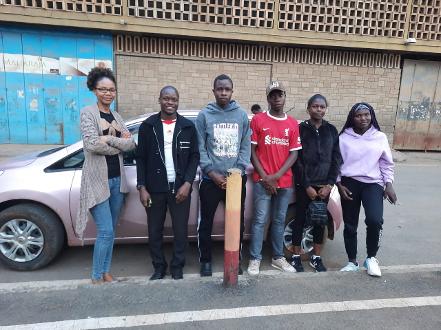 Dedicated students from Vihiga & Bungoma arrive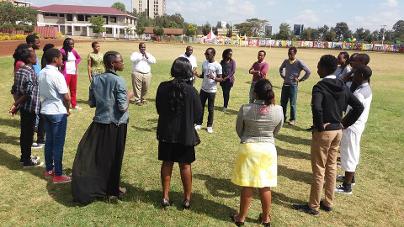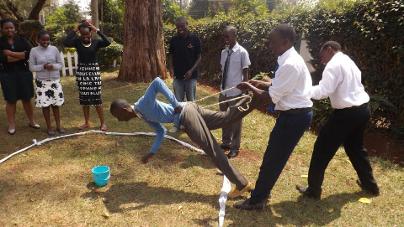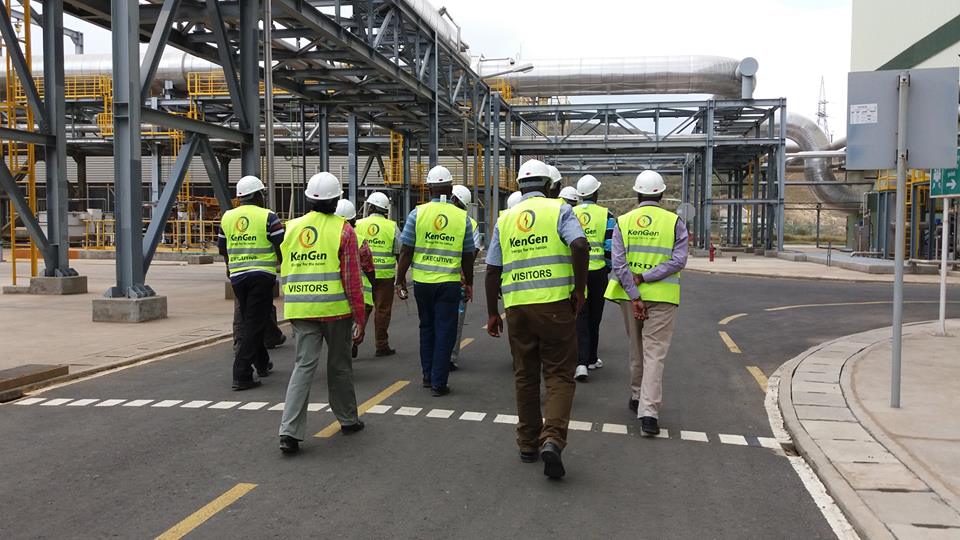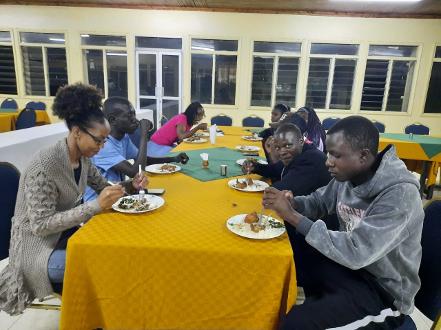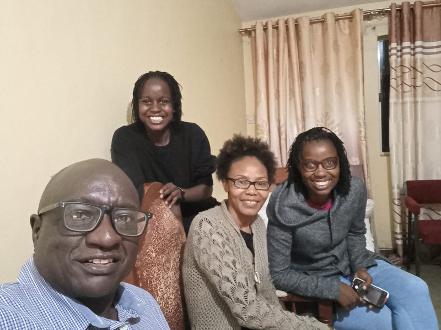 Meet some of the mentors!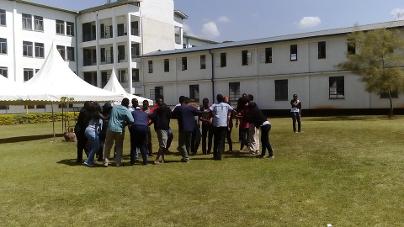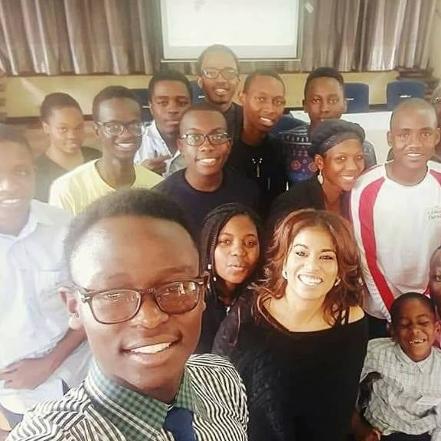 Truly proud of Eric Fairweather above, then in high school - being instructed by Mentor Derek Bbanga on Soft Skills of Branding & Etiquette. Eric has since graduated as a Software Engineer with Minerva Schools (USA) and is working in New York, USA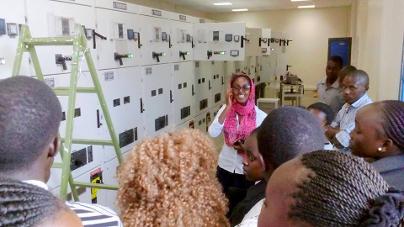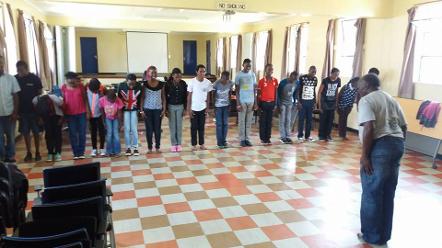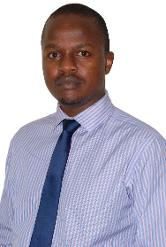 Eng. Mathew Waita Mwenga:
Engineer Matthew Waita Mwenga is the Managing Director, Ren Engineering Solutions.
He is a Chemical/Mechanical Engineer with over 15 years' experience in the industrial sector and petroleum industry. He has 6 years working for Atlas Copco Eastern Africa as a service engineer, aftermarket engineer, compressed air energy auditor and Rental manager. He has also spent 3 years working as a drilling solution engineer in National Oilwell Varco, an upstream oil and gas Equipment Company.
His core competencies include Energy Management, Industrial equipment maintenance, Pipework installation and design, Training, Project management, service quality, drilling tool failure analysis and drilling optimization.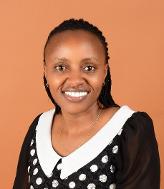 Eng. Lydia Mugure Nyingi
Eng. Lydia M. Nyingi is a Professional Engineer with the Engineers Board of Kenya, Corporate Member with the Institution of Engineers of Kenya and a holder of BSc. Electrical and Electronics Engineering from the University of Nairobi.
Eng. Mugure is currently working with Kenya Power and Lighting Company Plc since 2015 and had previously worked with the East African Cables Plc. She has gained extensive knowledge in dealing with Underground Cables for more than 10 years. She is an Underground Cables course facilitator at the Institute of Energy Studies and Research (IESR), where she trains company personnel and from different State Organizations on Underground Cables jointing and handling procedures from 11kV up to 220kV levels. She believes in empowering people through training opportunities as well as certifications to promote growth, build confidence and compete with global markets.
She participated, under expert jointers from Latvia, on 220kV sealing end terminations on 185MW Kinyerezi 1 Extension Power Generating Plant in Dar Es Salaam, Tanzania in 2022 and was certified.
She was also a speaker during the Kenya Power Grid Conference 2023, whose theme was Innovating for Sustainable and Quality Grid Service and did a paper presentation on 'Underground Cables Capacity Building'.
Eng. Mugure is currently a committee member of Mechanization in Kenya Power, which is tasked with evaluation of the current level of equipment in the company, utilization and optimization proposals as well as recommendations of latest technologies in the market. She attended the 2023 Utility Expo in Louisville, Kentucky (USA), with the aim of Benchmarking with the mechanization levels from the developed utility firms to accomplish improving operations and cutting maintenance costs.
Eng. Mugure is a member of Gamma Energy which she co-founded with other female engineers in KPLC, with the aim of overcoming stumbling blocks in their career journeys and life phases. She mentors other female Engineers in registration as Professional Engineers with EBK.
She is also a STEM mentor especially to High School and University Students.
She is very passionate on mentoring the youth to realize their dreams and have a vision. She serves in her local community and church as a Youth Animator and organizes seminars and activities that bring the youth together to discuss matters that promote early self-awareness, talents realization and build their confidence to excel.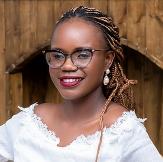 Eng. Kate Mukangula
Eng. Kate is a professional engineer registered with the Engineer's Board of Kenya and a corporate member of the Institute of Engineers of Kenya. She has a Master's of Science in Energy Management
and Bachelor's Degree in Electrical and Electronics Engineering. She is an alumni of YALI in the Women in Africa Power Cohort 1 and current cohort member in Open Africa Power 2023.
She is a Design and; Construction Engineer, she conceptualizes and; implements designs, reviews design and oversees implementation projects. She is passionate about electricity access and is filled with joy when she sees a village that was once in darkness spring to life economically and socially due to access to power.
Kate's ultimate goal is to contribute meaningful knowledge and contributions towards achieving universal access to electricity in Sub-Saharan Africa. She values electricity connectivity as it is a major accelerator of socio-economic development in our African communities. She has so far worked with teams and relevant stakeholders within Machakos to connect 100,000 households.
She enjoys nature, forming new friendships, travelling, community service, mentoring young women through volunteerism and spending time with family. She definitely loves love.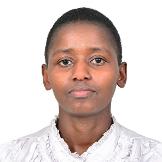 Eng. Veronicah Mugure Martin
Eng. Veronicah Mugure Martin is a Kenyan Citizen, a registered Professional Engineer with the Engineers Board of Kenya (EBK), and a Corporate member of the Institute of Engineers of Kenya (IEK). She is a Moi University alumni, having studied Bachelor of Engineering in Electrical and Electronics Engineering and graduated in December 2012.
Eng. Veronicah is currently the Kiambu County Design Engineer working for Kenya Power since the year 2020. Previously, she has worked as the Design and Construction Engineer in Kiambu Zone still in Kenya Power for 4 years.
Prior to joining Kenya Power, Eng. Veronicah was privileged to work as a Wireline Field Engineer at the Oil Exploration basin in Turkana under Baker Hughes Inc for almost 2 years.
Eng. Veronicah is a proud member of Gamma Energy in Kenya Power and passionate about developing all rounded female engineers to take leadership roles in the society. She is passionate about mentorship of young females to create interest along STEM subjects and a strong advocate for more women to register as professional Engineers.
Eng. Veronicah is God fearing, a wife and a mother of two- a daughter and a son.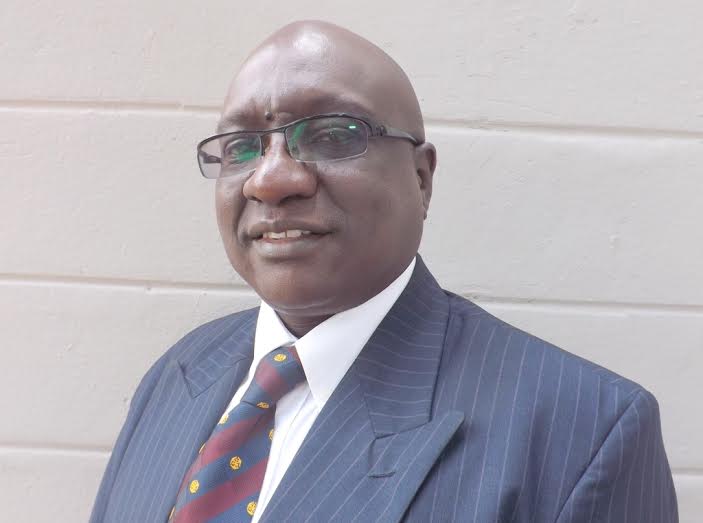 Rev. Dr. Julius Weche

Rev. Dr. Julius Weche is a Leadership & Management lecturer with ESAMI; East & Southern Africa Management Institute, Dubai, United Arab Emirates (UAE). ESAMI provides leadership training to African leaders from over 20 countries, training in Leadership, Communication, Strategy, Emotional intelligence, Effective Employee Engagement and other management disciplines. Weche has also been a BLR Etihad Museum Experience Executive in Dubai, UAE. He is ordained for Youth Ministry by the Anglican Church of Kenya and is Founder & Team leader of Akad Education Group – Africa.
Dr. Weche's educational solutions with AKAD Africa led him to being twice invited as speaker-panelist at Harvard Business School (HBS); Massachusetts Institute of Technology (MIT) in Boston, USA and as Africa's representative to HEC MBA Paris, France. He has been the GMAC representative for the GMAT examinations in East Africa and CEO of Leruo Services (PTY) Ltd in Gaborone, Botswana.
Weche has led AKAD Signature success programs locally and internationally, which include "Mentoring Future Engineers" with Kenya Power and KENGEN, "Mentoring Future Leaders" with Dr. Vimal Shah & BIDCO; "Media Mentorship" with Standard Media Group, School Motivational Talks with Admissions & Scholarships to top world class universities and competition judge for US$ 1 Million Hult Prize (Kenya), Zuri Awards & YouWin Awards. Over 100,000 people including youth in schools have been impacted, influenced and inspired over the last decade. Results include obtaining admissions with scholarships (of up to USD 100,000 each per year) to top, world class universities; Harvard, Yale, UPenn, Brown, Duke in the United States of America and other countries; Germany, Japan, China, Australia, Cyprus, UK and South Africa – often featured in Kenyan and international media.
Academically, Weche is a PhD candidate in Leadership & Management. He holds a Master in Business Administration (MBA) degree from De Montfort University (UK) and Bachelor of Veterinary Medicine degree (BVM), University of Nairobi (UoN). He has undertaken graduate studies in Dispute Resolution (UMass, Boston), Negotiation (PON - Harvard Law School), Governance (NIST), Financial Management (Strayer University, USA), Mediation certificate (MMS, Boston), Biblical Doctrine (NBTI), Import & Export – Clearing & Forwarding and Shotokan Karate. He is has been a Sensei and Discipler for over 30 years; published author of "Conflict and Deception in Relationships and Marriage" on Amazon.com
Dr. Weche aspires to develop and empower thousands of value based leaders in Africa & Middle East, including the next 100 Billionaires leaders like Dr. Vimal Shah and Harvard Professor Issa Baluch. He is a product of mentorship, including the late Major Aussie Walker, David Odongo and Kiptanui Chemwor of Factual Films (1974) Ltd., who identified, invested in, challenged and developed his business & leadership skills over the decades. He thanks God for the privilege and honour of working worldwide; from the United States of America to China; several African countries; Zambia, Zimbabwe, South Africa, Botswana, Tanzania, Uganda, Kenya and Southern Sudan.
October 2023